★★★★½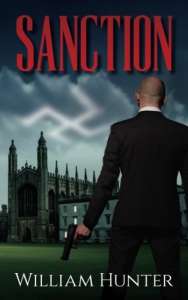 Sean Garrett is a British agent on an unsanctioned assignment to retrieve intelligence from a distinguished Cambridge professor, Mohammad Ahmad. It's not all for the job – Garrett has his suspicions about his target's involvement in a terror attack that claimed his grandfather's life and his sister's health.
Everything goes FUBAR, however, when his target is unexpectedly killed by an assassin – a rogue element in a calculated risk soon to come sharply into focus for every major player in world intelligence. As Garrett begins a desperate struggle for survival against an unknown enemy, old allies become brand new foes as an unlikely player uncovers the buried secrets of the British government and the skeletons of a long-past war.
Sanction is William Hunter's debut spy thriller, and introduces readers to a unique and compelling modern story of espionage, with the complicated Garrett as a hard, morally-grey, but sympathetic lead character. It's hard to call Garrett an entirely likeable protagonist, as he is first and foremost a sanctioned killer, who's hunting for other killers in a story where no side is free of sin.
The story is definitely on the side of mature, though fortunately free of gratuitous violence one might expect from a read with this kind of body count. Violent events that uncomfortably echo real-life tragedies both past and plausible are the sparks that set off the larger plot, yet the narrative doesn't dwell on this inhumanity in a way that could overwhelm readers. Instead, there's a balance of realistic brutality and vividly emotional writing that primes readers for new revelations in the novel.
The plot is fairly complex, but easy to follow, with enough twists, diversions, and parallel plots that the story is multi-faceted, elevating the book over others in the genre. Garrett is not alone on the trail of the killer, nor the killer on the trail of Garrett in turn. With MI5, SIS, CIA, SOG, Scotland Yard, and more all monitoring the situation, there are plenty of viewpoints to look through, and so we begin to see the scope of events from all sides of the situation. As readers are able to connect the dots and understand the motives behind overlapping events, a much, much bigger story unfolds on an epic scale.
To some readers, the most complex feature may simply be the use of British slang, which often remains a mystery even to fellow countrymen only miles apart, but it certainly lends the book an aura of authenticity. Avid readers of spy and military fiction will likely find Sanction an easy read to slip into with little in the way of genre-spawned stumbling blocks. For instance, Hunter doesn't skimp on technical detail and jargon, so readers will never have to look it up for themselves, yet doesn't overwhelm the reader with description.
Overall, Sanction is an exciting, well-conceived thriller with surprising depth, and establishes William Hunter as a powerful new thriller writer who's able to express action and complex emotion with equal clarity.
Links
Author Site
Facebook
Amazon
Barnes & Noble
Goodreads