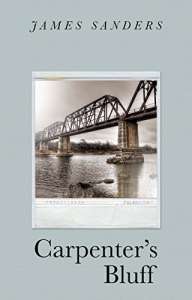 Our adult lives are largely influenced by the uncharted events of our youth and nowhere is this more evident than in Carpenter's Bluff, James Sanders' moving literary tale of youthful indiscretions and dark secrets.
Henry "Hank" Anawatty is a young attorney with problems in his life, the most pressing being that the woman he's been seeing has disappeared. He reluctantly goes to see a shrink and little by little, her pointed questions chink away at Hank's armor. He reluctantly admits to excessive drinking, unemployment, and a life desperately spinning out of control. However, this is only the beginning of Hank's complicated story…
Carpenter's Bluff alternates between 1987 and Hank's youth in understated but evocative prose. Character-driven with many moving parts, Sanders gives us Hank, a flawed protagonist who's slowly suffocating under the weight of his guilt. Callous betrayals and youthful indiscretions drive a wedge between Hank and his best friends and girlfriend, but it's the dark secrets that threaten to ultimately destroy them all, giving the book an absorbing drama at its core.
Sanders paints a sobering picture of the human psyche as he systematically deconstructs Hank's 33-year-old life to expose his pain and vulnerabilities, which will be most recognizable to most anyone. There are some typos here and there, but the strength of Sanders' prose, and the relatable intensity of Hank's story, give Carpenter's Bluff real emotional weight, and a sense of poetry all its own.
Links
Amazon