★★★★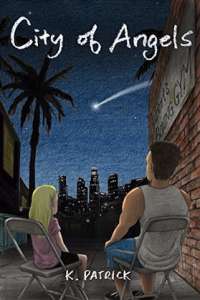 City of Angels by K. Patrick commands a reader's immediate attention with a riveting story about the triumph of the human spirit.
Almost eighteen years old, Michael Connolly is a product of the Los Angeles child services system after the untimely death of his beloved father and sister had sent his mother on a downward spiral into depression and suicide seven years earlier. Unlike many young men in his situation, Mike has risen above his tragic circumstances and has carried on his father's legacy as a boxer. Thanks to the devoted ministrations of Jerry, his coach, Mike has earned himself an unprecedented spot at the Olympic trials.
Mike wins his first two matches with little problem, but his next opponent is Janko Lukin, an intimidating Serbian, whose family is said to be a part of organized crime. Jerry is convinced that Janko is on steroids and complains to tournament officials who demand a drug test from Janko the next morning – which he refuses – leading to Janko's disqualification and a two-month wait before Mike can fight another opponent and secure his spot in the Olympics. A disappointed Mike heads back to L.A. with Jerry to resume his training and to wait, not knowing that his young life is about to drastically change in ways he could never possibly have imagined.
This is a story that has a great deal of heart and at the center of it is Patrick's compelling and sympathetic protagonist, Michael Connolly, who you root for as a reader well beyond the boxing ring. This is a young man who is respectful, helpful, and caring, seemingly a poster boy for all that is good about humanity, without necessarily seeming "too good to be true," and more how people should be. When things begin to go wrong for Michael, we as readers cannot help but admire his perseverance in the face of adversity. City of Angels is nevertheless a harsh reminder how easy it is for a young child to fall through the cracks of the system. and become victimized by the very system that is supposed to protect them, so there are a number of vitally important messages at the book's core.
At 780+ pages, City of Angels is an epic saga that takes a fair bit of commitment, but it remains a thoroughly engrossing and well-written novel, as Patrick conveys Michael's story with great empathy and compassion, while never relying on sentimentality. Despite its length, the narrative is tight overall, without purple prose to clutter the pacing, and the dialogue is realistic and lively, which is vital for a novel of vivid realism.
While sagas tend to be long, Patrick could have easily trimmed a good 250 pages – some of it from the play-by-play boxing match details and boxing information – and it would still have been just as compelling. To the boxing fan or novice, this type of information may be authoritative, but doesn't entirely add anything to the story. That said, Patrick clearly knows his stuff – whether it's boxing, the child protection system, or the mean streets of the "City of Angels."
Overall, City of Angels is the kind of book that sticks with you long after the last page has been read. It's a rare novel that you feel better off for having read, as it tells a deeply important story about overcoming adversity in America that is also deeply human and universal.