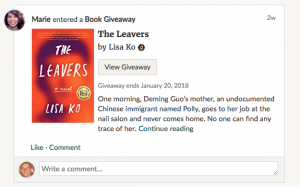 A year and a half after its first announcement, Goodreads has finally revealed its Kindle giveaway program open to all authors, starting in January 2018. From the Goodreads blog:
Today, we're announcing our new U.S. giveaways program, with two packages offering new high-impact features to drive increased book discovery and reader reviews. The new program is designed to deliver additional marketing benefits that authors and publishers have been asking for, including more ways to reach the author's readers, and automatically adding the book to the Want-to-Read lists of anyone entering the giveaway. And for the first time, Kindle Direct Publishing authors can run giveaways for Kindle ebooks—a feature previously only available to traditional publishers. All of these benefits are included in the Standard package which costs $119 for up to 100 copies (either Kindle ebook or print book). The new Goodreads Giveaways program, which replaces our current Giveaways program, will go live on January 9, 2018, and will initially be for giveaways open to U.S. residents.

We're also introducing a Premium package, offering special "Featured" placement on the highly-trafficked Giveaways page, as well as all the benefits of the Standard Package. The Premium package is $599 and is available for either print books or Kindle ebooks.
Before balking about the price, they do give this incentive:
To celebrate the new Giveaways program, we'll be offering special introductory pricing of $59 (save 50%) for all Standard giveaways and $299 (save 50%) for all Premium giveaways created between January 9, 2018, and January 31, 2018.
The real issue with this change is this line here: "The new Goodreads Giveaways program, which replaces our current Giveaways program…" Authors were already balking at the cost of the ebook program when introduced in May 2016, so it is unsurprising how upset many are this time around. For example:
I am disgusted by Goodreads today.

Your giveaway program was a great way to connect authors and readers. As an indie author, there is no way I can afford to pay $120 to $600 to list a title.
Some of the criticism does seem a bit much. If you're not able to afford $119 to promote a book, you're going to find a tough time finding success as an indie author, as any book should have a marketing budget of at least that much. Just the fact that Goodreads are now charging money doesn't necessarily make this a "cash grab," as many are criticizing. As shown with Pronoun's recent demise, an internet company needs to turn a profit to stay afloat, even a company with seemingly bottomless pockets like Amazon (which owns Goodreads).
A commenter on this Verge post is a bit more measured:
I'm okay with this. I'm sorry, but "indie" doesn't mean cheap, nor does it mean free, nor does it mean "I expect to write and publish a book with no out-of-pocket expenses". If you want to play on someone else's platform, expect to pay for that privilege. And $119 is a fairly low-cost investment in your work if you think your work is worth promoting.
In Goodreads defense, they do have to charge something, especially for the ebook program – if the service was free, the program would be inundated with thousands of books overnight, rendering it useless. The real shame in this change from Goodreads isn't necessarily the free ebook program – as that could potentially have some value – but that they've added a fee to something that already required authors to shoulder printing and shipping costs.
The jury's still out if this program will even work, as paperback giveaways don't always lead to reads and reviews. Additionally, it's already incredibly easy to give away 100 Kindle books during an Amazon promotion, and generally there's not a lot of reader traction with these free giveaways until you give thousands away. Will winners of a Goodreads giveaway be more willing to read an ebook and leave a review? If so, then this might be worth the money. If not, there are other free options available, or lower cost options to promote a free book.