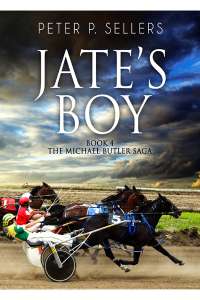 Jate's Boy, the fourth book in the Michael Butler Saga by Peter P. Sellers is a thrilling addition to the storied history of crime novels centered around horse racing.
Beautiful Sophia Butler is a harness racing superstar. Wherever she races, the fans follow. The governor of New York wants to increase revenues at the track by adding slot machines and needs Sophia to bring in the crowds. Sophia's husband, Michael, who's doing a five-year stint in a correctional facility, is offered early parole if he convinces his wife to race in New York state.
However, that's no easy task since Sophia hates the state for sending her husband up river – and she's part of Chicago's notorious Tanzini crime family who wants to use her to promote a racing track of their own in Iowa. There's a lot riding on Sophia's cooperation, but no one's bothered to ask her what she wants…
Jate's Boy is a riveting crime thriller, which Sellers delivers like he possesses coveted insider knowledge about the world of harness racing. With mobsters, gambling, and romance in between, Jate's Boy will most certainly appeal to fans of Dick Francis, though Sellers has a unique voice of his own.
Telling a story from different points of view can impede momentum and there's a bit of that here, but once the story gets rolling it doesn't stop, and concludes with a particularly fantastic finish. A page-turning thriller, Jate's Boy delivers as a standalone, but will definitely have readers looking to pick up other books in the Saga.