★★★★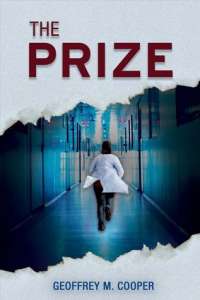 Deceit…scientific fraud…betrayal…murder. The highly-competitive world of medical research is exposed in The Prize, a gripping page-turner by Geoffrey M. Cooper.
Thirty-six-year-old Pam Weller is a junior faculty member at Harvard's prestigious Langmere Institute for Neurological Disease who, along with her team, are looking for an effective drug that prevents the development of Alzheimer's disease. The stakes are high as it could mean a Nobel Prize but more importantly for Pam, it would mean guaranteed tenure. There's just one problem, though: Eric Prescott, a leading neuroscientist at the Institute for Advanced Neuroscience is also trying to discover an Alzheimer's drug and right now, the only thing standing in the way of his shot at a Nobel Prize is Pam and her research.
Things come to a head when a member of Pam's research team discovers that one of the drugs has worked in the cell culture system. Pam quickly orders a double-blind experiment, and soon all of the results confirm that they have a viable drug on their hands. Their paper is published and excitedly received by the scientific and medical communities. With the Nobel Prize about to slip from his grasp, Eric Prescott realizes the only way to stop this from happening is to destroy Pam's career – even if it means committing murder in the process…
The Prize has a lot of great things going for it – particularly, some solid thriller writing, as well as a fascinating look inside the medical research community. Cooper manages to take the complex field of medical research and make it not only understandable, but also exciting. The book could have veered into a slow moving medical procedural weighed down by research, but he weaves a quick-moving thriller into the high-stakes game of medical research. Given Cooper's other books, which consist of non-fiction works about science and medicine, he clearly knows his stuff, and the attention to detail excels in this novel.
Propelling this work of fiction forward are two compelling lead characters in Weller and Prescott. Pam is young and idealistic, yet knows the rules that govern the medical research game – the fight for money, tenure and awards – and is willing to play the game if it means allowing her the freedom to pursue her research. Prescott is the perfect foil in that he's extremely intelligent and driven by his own ambition and hubris. Jake, as Pam's sympathetic and loving ex-FBI boyfriend, keeps her sane when everyone turns their backs on her, including her mentor and her team, and she's arrested for committing scientific fraud.
The narrative is straightforward and easy to follow with crisp, realistic dialogue – all of which are important with such a complex subject. Although The Prize's subject matter focuses on medical research and lab protocol, Cooper is intent on making the novel a thriller first, and he does effectively by giving his readers an intriguing page-turner, replete with betrayal, murder and a full-blown scandal that rocks the medical research community. The old adages of who you know and having powerful friends in all the right places are chillingly conveyed as Prescott sets about effectively destroying Pam's career with a few well-placed phone calls.
For readers who enjoy medical thrillers, The Prize is a top-notch entry into the genre. The main knock against the book is the quality of the cover, but in terms of storytelling, this is as good as they come. Fans of the genre, and thrillers in general, will find this novel an immensely satisfying read.
Links
Author Site
Twitter
Amazon
Goodreads