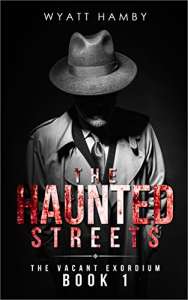 Hard times and dark days set a grim tone for Wyatt Hamby's hardboiled crime tale, The Haunted Streets, Book 1 in The Vacant Exordium series.
The year is 1937. Seasoned Detective Frank Palmer and his young partner, Charlie Callaghan, are called to the home of prominent radio host, Morgan Maxwell, who's been murdered. There are no bullet casings or murder weapon – only a .38 slug and two leather-bound ledgers with cryptic entries. Maxwell's death has also coincided with the passing of seventy-two-year-old Salvadore Barone, head of the Barone crime family. As Palmer digs deeper into the murder investigation, he soon finds himself in the middle of a mob turf war between two of the city's most powerful crime families…
Hamby's main protagonist, Frank Palmer, can hold his own in the company of several other famous detectives of the hardboiled genre, most notably Sam Spade and Mike Hammer. Good hardboiled fiction calls for mobsters, gunfights, car chases and of course, an irresistible femme fatale. The Haunted Streets has all of these elements, including believable period-specific dialogue, without being overly reliant on tropes.
The main negative is Hamby's penchant for shifting points of view between paragraphs, which can be distracting, but as a strong work of detective fiction in the tradition of the greats, The Haunted Streets will surely satisfy fans of the genre, and establishes Palmer as a solidly entertaining protagonist for this dynamic new series.
Links
Author Site
Facebook
Twitter
Amazon
Barnes & Noble
Goodreads