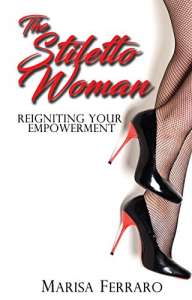 Life and dating can be challenging at the best of times but writer and blogger Marisa Ferraro outlines the right approach to both in The Stiletto Woman: Reigniting Personal Empowerment.
Ferraro takes a common sense approach to dating by urging women to find empowerment from a bad relationship. She candidly discusses dating dynamics while bemoaning the overuse of digital communication that hinders the intimate connection that's vital to every relationship.
This useful dating manual offers a relatively simple equation for empowerment: "inner core values + worth = empowerment," which gives the book a tone of seriousness – and effectiveness – that the title and cover might not suggest. The book is not all fashion tips that make up women's magazine fare, though it certain covers that as well.
The book is also full of humor, with some great lines that feels like a friend offering a much-needed pep talk over a bottle of wine. Where the book is less effective is not entirely providing a complete picture of the complexities in modern dating. As such, some of the advice comes across more as bromides than practically useful.
That said, The Stiletto Woman is effective because Ferraro is such an enthusiastic and empathetic guide, with an inspiring determination to help women succeed in the face of past failure.
Links
Author Site
Facebook
Amazon
Goodreads