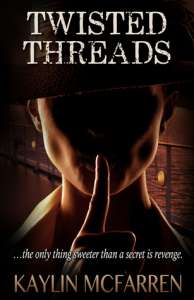 Who knew that a tropical cruise could be a health hazard – and for some, even deadly? Such is the case in Twisted Threads, Kaylin McFarren's high-octane cruise ship whodunit, her fourth offering in the Threads series.
Former geisha, Akira, is now a trained assassin for a notorious Japanese crime syndicate led by the cold-blooded Mitsui-san. Her final assignment before being set free is to board a cruise ship, then identify and kill the person responsible for the death of Mitsui-san's sister, Keiko, found dead two months earlier. Her short list of suspects point to a wealthy couple, but once aboard the ship, Akira decides to charm their nephew, Devon Lyons, to get to the truth. However, her assignment becomes derailed when she begins to fall for the very attractive Devon…
Twisted Threads grabs the reader's attention from the very beginning, thanks to the many "twists" McFarren expertly weaves into the narrative. There are occasional bursts of graphic violence and kinky sex which are definitely not for the faint of heart, but could be just as much a selling point. Never gratuitous, these moments serve to heighten, or release, some of the tension that forms the core of this well-told story.
An exotic mix of mystery, murder, and romance, Twisted Threads is sure to please a wide audience of readers, either as a standalone or as part of the series.