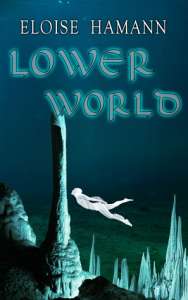 For fans of science-fiction fantasy, author Eloise Harmann delivers a list of classic touches that include a hugely diverse cast of characters, quotes by Neil deGrasse Tyson, and a weighty page-count, in this unusual underwater saga.
In Lower World, author Harmann writes a corporate tech-political murder-mystery that sees an underwater community, the tetrapeds, threatened by a landlubbing world. Teeming with information on marine life and geological features of the ocean's floor, the premise explains that the Great Unexplored is not Deep Space at all, but the oceans of our own planet, offering a highly inventive world that skirts the line between science fiction and fantasy.
Although some of the character names may be a little hokey (Captain Dorsal,  Phib) the book would interest readers who like science themes and a bit of fun with their fantasy realms. Add a dose of romance, when Landley, a cave-dwelling "lower" detective who gets on the case of her murdered roommate and falls in love, this book squeezes in a bit of everything for a busy and fully-imagined universe that explores not only the limits of nature, but also themes of prejudice and class. An entertaining idea brought to life with lots of attention to detail makes this cross-genre book a unique read.
Links
Author Site
Facebook
Twitter
Amazon
Kobo
Smashwords
Goodreads