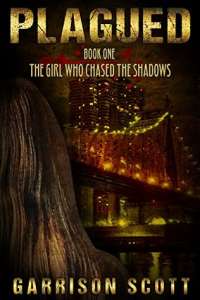 In Plagued: The Girl Who Chased the Shadows, by Garrison Scott, readers are introduced to a world that has been irrevocably changed by an alien asteroid that destroyed all semblance of normalcy on Earth. More interestingly is the main character, Skyler, who is infected with an alien pathogen moments before the asteroid makes its deadly impact. This isn't a normal infection, however, and as it begins to transform the infected survivors, the division and fear among those still alive becomes a new battle for survival.
The novel flows at a rapid clip and the characters are rugged and well-defined, making them surprisingly believable in this particular post-apocalyptic landscape. The journey that Skyler must embark upon is unpredictable, with a number of meaningful lessons and profound moments along the way, rather than a disconnected string of action sequences and dismal descriptions of a destroyed world.
On the surface, the story may sound like familiar fare, but the novel is a thrilling and original new entry in post-apocalyptic lit, with a compelling, offbeat heroine that boldly carries the book from the very start. Plagued is not your typical end-of-the-world thriller, and will leave readers entertained, amused, and ready to pick up the next installment.
Links
Author Site
Twitter
Amazon
Goodreads