★★★★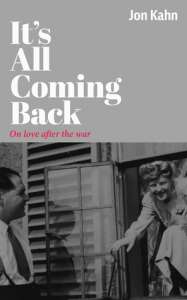 When Anne-Marie and Helmut marry in London just a year after World War II, they are young, in love, and glad to be finally free of the deep tragedy Hitler had brought to Europe. Swedish Anne-Marie is sweet, educated, and emancipated, but Helmut is from Germany, and Jewish. He has lived through many terrible family losses, and there are many divides in their knowledge of world events recently passed.
Through their love, they must now get to know each other, and heal the rifts in understanding between their families, both culturally and emotionally. The awful truth is almost to hard to bear: Anne-Marie's family have been sympathetic to German ideals, while Helmut has lost loved ones, in particular his uncle, to the Nazis.
Translated from the original Swedish, It's All Coming Back is written by their son, the narrator. However, this book is not a straightforward family-tree biography, and that's what makes it stand out. Written as a novel, Kahn fills in the gaps of memory with beautifully-written prose. Starting with a real-time scene in Copenhagen, he writes at the end of the chapter, "Perhaps this is how it was on their honeymoon. It could well have been. I know everything and yet nothing." This kind of narration breaks the fourth wall, makes us relate to the narrator as the son, and as a writer trying to relate to his parents. It's a really clever vehicle, and used here with a large degree of finesse.
One aspect of the book that would elevate it to a fantastic piece of work would be a professional proofread. In places, text is not quite native English, and there are a few spelling mishaps. A copy edit would also rid the prose of run-up sentences: sentences that were written first, and kept, despite the next sentence saying exactly the same thing better. This make the prose rather purple at times, instead of getting to the information. These spot an otherwise engrossing read. But honestly, it's easy to forgive.
Kahn has drawn his characters with fine lines and competent roundness. The reader will be able to imagine Helmut, his solid figure, the Germanic traces in his speech, regaling his young son with stories of his life, while in past scenes drawn so well, blonde and graceful Anne-Marie blushes and speaks breathlessly about her hopes and excitement to her new manly, and exotically foreign, husband. Time is spanned with care, and readers will piece together the stories as smoothly as Kahn has done in the writing.
What sets the book apart from most others exploring this post-war era is that it's written from a Swedish perspective, and Sweden of course was never in WWII. Instead it was a place to escape to, and as such, bears its own scars from that time. This rare perspective combined with the intelligent POV and narration means that Kahn has achieved where others often try and fail: covering a family history in a way that is engaging for any reader.
For those that enjoy books such as those by Rachel Seiffert and Maggie Helwig, It's All Coming Back: On Love After the War is an originally crafted post-war family story that will leave readers intrigued, as Helmut and Anne-Marie and their family both past and present struggle with one of the biggest tragedies of modern European history, and prevail, because of their love.