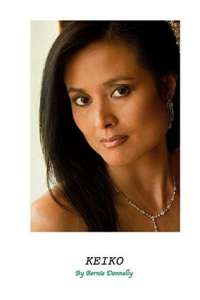 When life slips into a deep, spiraling rut, pulling yourself out can be difficult, but it always helps when an exotic and unexpected stranger falls into your path. In Keiko by Bernie Donnelly, two people from opposite sides of the world find one another and find a fresh spark of possibility for happiness.
Bruce Stevens is an exhausted CPA with a marriage careening off the rails, while Keiko is a mysterious Japanese woman who needs some tax matters handled in the lonely town of Sarasota. This unlikely meeting intoxicates Bruce, who sees Keiko as a chance to start the next chapter of his life right.
As unlikely a pair as they seem, Bruce and Keiko both have a streak of loneliness and a strange connection that is both charming and genuine on the page. There are flashes of high-school insecurity mixed with the depressing weight of middle-age cynicism. The courting, cultures and confusion of these two characters are at the center of the story, but the overarching themes include the complexities of love, the impossibility of truly understanding someone else, and the pain of loneliness, regardless of age or outward appearance.
Like so many other romance novels, there are ups and downs in this journey towards Bruce's ultimate happiness, including Keiko's current relationship, the cultural divide, and his crushing self-doubt. He wears his emotions on his sleeve like few male protagonists do, which makes him more of a sympathetic character. His apparent loss of the object of his desire threatens to upset his entire existence, and while it seems overly dramatic to lose one's lust for life so easily, Donnelly manages to show Bruce's agony in a believable way.
As the plot progresses, the writing style and the characters mature, and the novel continues to improve. Bruce is introduced to the complex depths of Japanese culture, and the difficulty of marrying outside of that nationality. Readers are similarly educated and given context for this at-times heartbreaking novel, as Japanese relationships and family dynamics are a fascinating and complicated subject to understand, and very different from many Western traditions. With this framework in place, the struggle and conflict of the novel become even clearer, and more enjoyable to observe.
The writing is simplistic at times, and predictable at others, but it is sincere and well-considered throughout the novel, with very few grammatical errors or repetitive syntax. The major criticism of the novel comes with the cover, which doesn't do the prose justice. What carries the book forward is Donnelly's layered characterization of his two protagonists. He does an excellent job of blending self-aware narration, philosophical musings, and plot-progressing dialogue. The supporting characters and family members help to fill in the gaps and work as wonderful foils for Bruce and Keiko, helping to shape their personalities. Rather than the single-dimension characters they seem to be at the beginning of the novel, the main duo in this romance become fully fleshed out by the conclusion of this oddly addictive story.
Heartfelt and memorable, Keiko is an exceptional novel about finding love late in life. Donnelly draws heavily from his own life to depict this masterful story, which gives the book a depth of sincerity and reality that makes it a truly rewarding read.