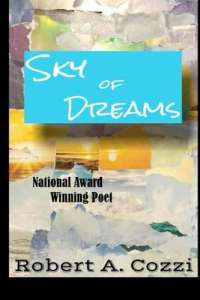 Award-winning poet and writer Robert A. Cozzi has brought to the page an emotive collection that will warm the heart and challenge the mind in Sky of Dreams. The poems follow themes and motifs that Cozzi's previous works have touched upon, such as lost chances, romance, and the wonder of his environment, using touchstones of senses, nature, and light to describe his feelings.
Cozzi opens this volume with "New Hope," in which faith reappears with the rising sun, followed by the affirmative "Strength Beneath My Feet." However, he is not always so optimistic. His heart, he says, is a blanket with holes in it ("Irreparable"), and there's someone who says goodbye before he even gets the chance to say hello ("The Gaze"). He expresses loneliness many times over, in "Before the Dust Can Settle onto His Heart" and in the wrenching experience of "A Different Kind of Love" that makes him anxious, afraid, and ashamed.
Cozzi is a compelling storyteller, able to weave a complex tapestry of action and emotion in a few well-chosen words. In "Bookstore Corner," he is moved when he imagines a lone young man's search for love in the pages of a book, then realizes and faintly mocks his misconception after a woman rushes in and greets and kisses the young man, leaving Cozzi "elated that I was wrong."
The author conveys an exuberance for life and its smallest details, as in "They Fly!" when ashes, swept up by the writer, swirl away into the moonlight. Universal hope is the theme of "On the Heels of the Morning Light" and he pays homage to silence in "Falling Away with You," gently suggesting that, between two lovers, words are not needed. As such, the book is full of romance, not just between people, but between the poet and his environment.
Cozzi has added several long prose segments as well, giving his collection a potent tinge of memoir. "The Summer Between Sixth and Seventh Grade" is one example, a delightful description from late childhood, when he became a go-between for a friend and the girl the author himself had a crush on, implying that his character was such that both parties trusted him. A lengthy paean to the events from his childhood, "Grand Adventures" allows Cozzi to thank those who inspired his writing. These significant early influences led to an attachment to words, facilitating the mature poet's wish to pluck particular reflections, admirable for their universality, from youthful experiences.
He continues to hone his skills as a wordsmith and pays homage to his love of the best of childhood literature by reading to children at his local library. He has won several eLit awards, a testament to the broad and varied poetic output. At times, although Cozzi veers into cliche and a sense of whimsy that closes in to sentimentality, there is a core passion for expression demonstrated here by this prolific poet that fans of modern American verse will enjoy exploring.
Links
Facebook
Amazon
Goodreads