★★★★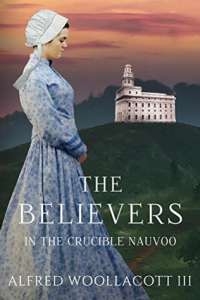 Blending family documents, historical records and a strong imaginative gift, author Alfred Woollacott III depicts the travails of a young woman joining in the founding of the Mormon faith in The Believers in the Crucible Nauvoo.
Woollacott's book opens in Peterborough, New Hampshire, where one of Mormon founder Joseph Smith's disciples has converted many townspeople. These believers are caught up in Smith's challenging and inspiring message. According to teachings from the Book of Mormon, converts must be baptized, and then have the certainty of sharing the life of Jesus while here on Earth. Some feel strongly called to Nauvoo, Illinois, where Smith is establishing a shining city on the banks of the Mississippi River.
The novel's central character is Naamah, a young woman still mourning the traumatic loss of both parents, and the great-great-grand aunt of the author. She seems to have little luck finding a husband, so takes solace in caring for her younger sister, Betsey. Drawn by a courtly letter from a male acquaintance, John Twiss, a follower of Smith who has moved to Nauvoo, she makes the journey. This journey tells the tale of the founding of the Mormon faith, and the struggles it endured. It also acts as a fascinating work of historical fiction, bringing Mormon history to life with real-life figures.
Unknown to Naamah, Smith has been killed—martyred, his followers will declare—after a dispute with local authorities. The Mormons are in disarray. Some, like Naamah, blessed with visions and voices, will cling to the faith. But who will replace Joseph Smith? Fortuitously, a new leader announces himself in time to reunite the sect: Brigham Young will carry on Smith's work. After Naamah's husband dies, she grows closer to the religion's inner circle and is asked by Young to be his wife, while being assured she will still be married to John in the hereafter. Naamah has to make a difficult choice: being in a polygamous relationship with Young means facing the vilification of those outside the faith, and will require another long trek to build a new Zion.
Woollacott, a retired businessman with an abiding interest in his personal ancestry, has undertaken to write this engaging story, not solely as an historical novel but also as a rich, conversational and believable human saga about his bygone kin. He depicts the sufferings and joys of belonging to a new and at times despised religion with verve and an eye to small details, skillfully conveying Naamah's personal emotional struggle, and how she fits into the overall historical narrative. He includes an appendix to underpin the facts presented, which gives the book a sense of historical import.
The book also acts as an earnest defense of his faith, presenting the position of the hecklers who want revile the Mormons as un-Christian, while never veering towards proselytizing, and instead towards the religion's history. He also tackles the controversial issue of polygamy rationally, stating the Mormon position and that of those outside the faith with equal care. All told, the book had to deftly balance Mormon history, Woollacott's family history, while never seeming too much like a work of non-fiction masquerading as a novel, and Woollacott handles all of these elements admirably.
Throughout The Believers in the Crucible Nauvoo, Woollacott's intuitively drawn, personal portrait of this distinctive woman brings Mormon history to life in a way that will be of great interest to readers interested in religious historical fiction, and especially for those interested in the Mormon faith.
Links
Author Site
Facebook
Twitter
Amazon
Goodreads