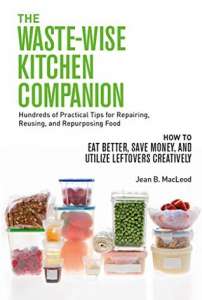 The Waste-Wise Kitchen Companion: Hundreds of Practical Tips for Repairing, Reusing, and Repurposing Food by Jean MacLeod's is a highly useful food-recycling encyclopedia that should be in everyone's kitchen library.
An "enthusiastic and curious (and thrifty) cook," writer Jean MacLeod has created a compendium of tips on how to save, rescue, and "repair" common and not-so-common edibles, in alphabetical format – from almond paste to zucchini.
Some tips are obvious to the budget-minded cook: use leftover applesauce in oatmeal or pancakes, or turn stale cake into new dessert with milk and a bit of sauce. Other ideas are less common but equally useful: make chutney with old banana skins, flavor a soup with cheese rind, recycle most stale breads (muffins, pita, bagels) by dowsing in cold water, popping in the microwave and toasting "as usual." There are repurposing tips for leftover egg yolks, old cinnamon sticks, wilted cucumbers, extra sour cream, and spare ginger root. Whatever type of cook you are, you're bound to find something useful in this creatively-written and conceived book, as everyone has faced the prospect of wasted food.
The cookbook section is overflowing with new titles, but The Waste-Wise Kitchen Companion is truly unique and essential. While some of MacLeod's tips are more obvious than others, the guide should be useful to most anyone, as it is so thoroughly comprehensive, encompassing every meal of the day, and a multitude of leftover offerings. Best of all, many of the tips seem fun to try out, whether you're budget conscious or not, so anyone who has set foot in the kitchen will find this guide both useful and entertaining.