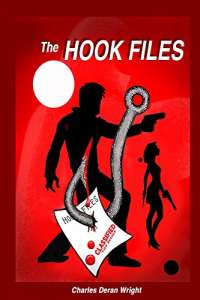 Not all families are created equal, and in The Hook Files by Charles Deran Wright, readers meet one of the strangest families  imaginable. Skylark, previously known as Kennings, has had his entire life directed towards being a spy – carrying on the family business as a covert operative for the shadowy "Company." However, when his old friendships end up tangled in his new secrets, things get complicated quickly.
With flashbacks to the past blended with visceral scenes from the present day, readers are given a comprehensive picture of this odd protagonist, making him an immediately sympathetic character. As the mysteries begin to deepen, and the threat to people he cares about grows, Skylark doesn't have to face the challenges alone, as his oft-times frustrating family come to his aid, offering a kind of comic foil in the way only families can be.
Written in a flexible and fun style, this fast-paced novel is unpredictable and surprisingly deep, with complex plot twists and the slippery red herrings of a suspenseful thriller. Skylark is continuously entertaining as a lead character and the subtle injections of humor in the novel make it flow seamless and smooth. A quick and light read, The Hook Files is an insightful and entertaining peek inside spy networks and modern-day cabals.