Please note: We do not offer this service for link building or SEO purposes, and we do not vary the terms below.
SPR has approximately 187,000 views a month, and has been the premier self-publishing resource site for authors and readers alike since 2008. If you would like to take an ad with SPR, please see the following options:
Share Your Pro Post – $100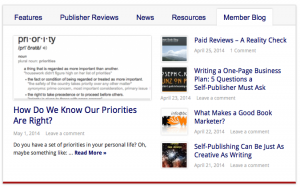 If you want to share your post with built-in optimization on a permanent link in our blog, you can send us your press release and keywords and we can share your news. Your link will be permanently available in the most suitable category: Features, News or Resources.
Please note: Your article must pertain to self-publishing, books, writing or literature.
We will not change your article once it is submitted, but you may request an update to links
We do not publish links to gambling, adult, directory, dating, religious, hate or spamming sites, or sites based in Nigeria, China or N Korea, or links of bad quality of any kind
Links hidden in text will be edited to show source address
Links to sites with less that the equivalent of PR3 will be nofollow, noindex linked
Links to sites that are not related to books or writing will be unlinked
We reserve the right to cancel your order if we feel your post does not adhere to our content guidelines or the FTC guidelines on disclosure below
FTC guidelines state that if your product is based in the USA, we must add notice that your post is a paid promotion, and all links must be marked clearly. We adhere to this by adding a label that reads "Sponsored Post" at the bottom of your content as close to your CTA as possible.  You can read the guidelines here on how to add links to your sponsored content. SPR is exempt from FTC guidelines as we are based in Spain.
 Note that if you share your sponsored content yourself from your SPR link, and you are based in the USA, you need to follow FTC Disclosure Guidelines for sharing paid content. Please read the guidelines explained here at New Media Expo (External Link).
Articles must be written in English and spellchecked for errors
We do not host video content so please embed video rather than upload it or it will be removed
 Note: From November 2014 we will not be offering banners due to a change in our business model.
FOOTER LINK – $29

A footer link will be added for 1 year
Book and writing related links only. No member discount. All footer links are no follow,no index, and appear on every page. The section header will state the link is a sponsored link, in line with FTC guidelines: