Here is the author interview template. Feel free to add your own Q+As to your own interview. 
Are you completely terrible with computers/lazy/in a rush? Send us your Word version of this interview with a clear author photo (of more than 300px on the smallest side) by attachment and we will do it all for you, to: editor@selfpublishingreview.com
Instructions
Log into your SPR account if you haven't done so already. Go to www.selfpublishingreview.com/wp-admin to log in. If you do not have one, please contact us to have an account set up first, or register here.
Interview Choice 1:

Please write a short bio of one or two sentences.
Tell us something about your book. The basics: what's it about?
What drove you to write this particular book?
What's your writing regimen? Where do you do your writing?
Who are your greatest writing influences?
Is the book in any one particular genre? Is it a genre that's familiar to you?
How did you come to self-publish? Did you try to get published traditionally?
What self-publishing service did you use? Happy with the service?
Would you self-publish again?
Any words of advice for those looking to self-publish? Any big missteps/successes?

What's next on the horizon for you as an author?
Add trailer link (if any)
Add link to main book sales page
Interview Choice 2:
Please write a short bio of one or two sentences.
Tell us about your day as a writer from morning to evening.

Add trailer link (if any)
Add link to main book sales page
Select all the questions above and copy them ( Run your mouse over them, use Ctrl + C to copy the text. ( Cmd/Apple + C on a Mac).
Add New Post (+ > New > Post)


Paste the questions into the post and fill in your answers.  You can use Ctrl +V shortcut (Cmd/Apple +V on a Mac) to do the paste.
Add a photo using the "Add Media" button: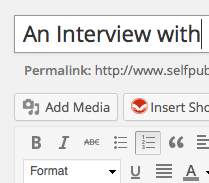 Go to the "Upload Media" Tab to upload your book cover photo: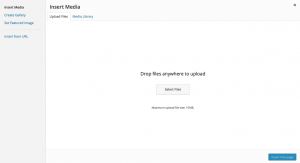 Once the photo is uploaded, make sure you set the following settings on the right hand side of the media library and hit "Insert Into Page" (It doesn't matter what size the thumbnail says as long as it's more than 100 on the first side).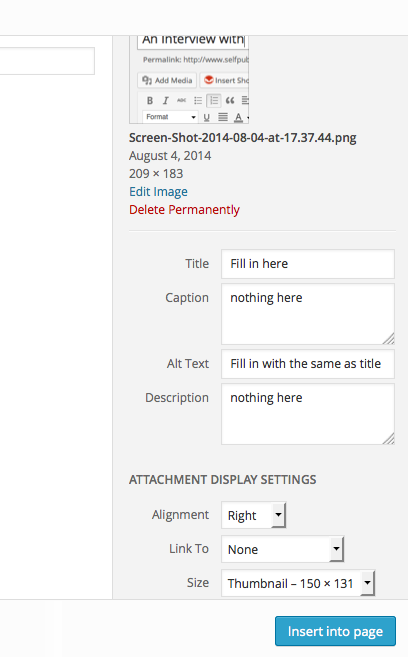 Scroll down on the right of your post and you will see a box called "Featured Image".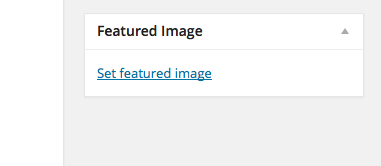 Click "Set featured image" to add your author photo and repeat the steps above, except this time the photo should be set to Alignment "None" and  "Full" Size. Please use a photo bigger than 300 on the smallest size.
Do not use the tags box. All tags will be removed as we have our own system for tags.
Add a link at the bottom of the questions for us to link to your book.
When you have finished, please use the blue button at the top right to "Submit For Review." We shall publish your interview (as long as it follows our guidelines) as soon as possible.
Need help? Email us.