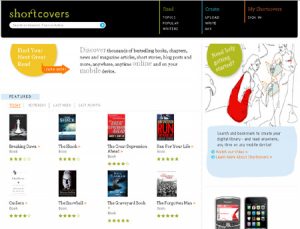 Another week, another major announcement from Smashwords.  From the Smashwords blog:
If you haven't heard of Shortcovers, they're a hot startup created by Indigo Books, Canada's largest book retailer. They offer a family of free e-reading apps supporting all major smart phone platforms, including the iPhone, Blackberry, Palm Pre and Google Android. They also support several eInk devices.

The mobile channel, Shortcovers' strength, is extremely important to the future success of all authors and publishers. Already, more ebooks are read on cell phones than on dedicated e-reading devices. Over the next few years, billions of ebook-ready smart phones will be in the hands of consumers around the world, dwarfing the number of dedicated e-reading devices.

For Smashwords authors and publishers, this agreement will make your books discoverable and purchaseable by millions of customers.
Though Shortcovers might not have the name recognition of Barnes & Noble or Sony – two of Smashwords recent partnerships, this news is significant because Shortcovers is a new media venture that is quickly expanding.  For instance, Shortcovers recently unveiled an iPhone app:
Some highlights:

A fully browsable store on your iPhone — check out books by category, browse bestseller lists, and check out new releases in a wide range of categories without ever leaving the app;
Covers everywhere — a full-screen cover when you start a book, covers on all of our lists, a "cover only" view of the books you've purchased;
Offline reading, with full titles saved to the device, but with everything still also safely stored in the cloud in case you move to another device, drop your iPhone in a lake (it's happened!) or want to switch to the web and pick up right where you left off;
New page-turn animations and reading display options;
Bug fixes and performance improvements galore.

We think this release is another great step forward in creating a reading experience that enriches your reading life without complicating it, that allows you to bring more books, more choice, and more reading with you wherever you go.
I recently read that the iPod was not nearly as successful until iTunes became what it did and new music was more easily-accessible.  A partnership with Smashwords means that Smashwords authors can be listed in all Shortcovers-distributed outlets.  Be certain of it: mobile phone technology is the future of ebooks.  The Kindle and Nook get most of the press, but there are an estimated 2 million people using the iPhone Stanza app.  But the iPhone is only one segment covered by the site.  Shortcovers distributes to the range of mobile phones:
Shortcovers has built FREE reading applications for the most popular smartphones, so you can browse or search for your favorite eBooks, download them directly to your phone and then read and save them in your reading list.
What makes Shortcovers particularly useful is its international audience and the ability of international buyers being able to find available books wherever they may be. Foreign rights restrictions can make it difficult for readers to find books in their market.  Given that Smashwords distributes to a worldwide market, this further increases an ebook's audience beyond the smartphone market.
If you would like us to review your book, have a look at our review packages
Author of The American Book of the Dead, which won Best Fiction at the DIY Book Festival and the Gold IPPY Award for Visionary Fiction. Largehearted Boy says it's "reminiscent of Philip K. Dick and Haruki Murakami, a book that boldly explores the future and defies genre." Also the author of North of Sunset, winner of the Hollywood Book Festival Grand Prize, and The Golden Calf - first published by Soft Skull Press, with editions in the U.K. (Rebel Inc.) and France (Hachette Littératures). Henry was a finalist along with Alan Moore and Dr Brooke Magnanti for his novel " God's Wife" at for Best Writer at The Erotic Awards London UK in 2013. He lives with his wife Cate Baum in Los Angeles. He is the founder of SPR. Visit henrybaum.com for more information.