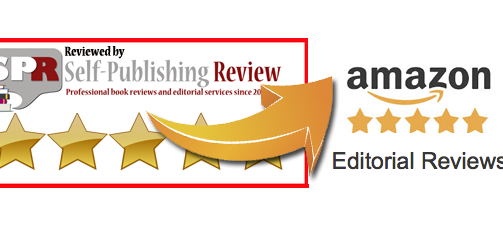 Self-Publishing Review's professional team has been reviewing books for almost a decade, with a quick turnaround, star rating, and minimum word count, for use on Amazon, GoodReads, author websites, and as back copy.
The site has been recommended by The Guardian, The New York Times, Writer's Digest, and Publisher's Weekly, and offers professional reviews for self-publishers and independent authors/presses. We accept PDF, ePub, .mobi, Pages, or Word documents for review.
Choose From Classic, Lead Story, or Jump Start Review Packages:

$119

$299

$179
How Many Readers Will See My Book Review?

We have approx. 6500 Facebook likes with on average 19,500 views per week
30k+ Twitter followers
24,000 views on Google+
Averaging over 188,000 website views monthly, with an average of 3 articles being read in a visit (5 minutes on site)
Newsletter to approximately 5,357 publishing professionals, authors, libraries, and readers 4x yearly
A growing Tumblr account will share Lead Story Reviews
= Over a quarter of a million potential readers will see your book
The Small Print
Your review will be ready approximately 30 working days from the date that we receive a copy of your book, or 14 working days for Jump Start Reviews. This is not a guarantee.

You will get asked if you want to publish your review with Classic and Lead Story Reviews only. Jump Starts are published automatically. This is because generally Jump Starts are shorter and therefore concentrate on the positives of the book reviewed.
Use this handy working days calculator to see when your book review will be ready, or look at the booking calendar here.
When submitting a book, you'll be prompted to submit info after payment with PayPal, where you can also pay with a credit or debit card. You can submit a PDF, ePub, .mobi, Pages, or Word document.
If you would prefer to buy a review on invoice directly, or if you have any issues making a purchase with our website, contact us here.
Please note all individuals in the EU region will be charged value added tax at the final PayPal checkout. If you are in the EU and VAT registered, please contact us.