(List updated 11-2015)
Setting up an author website is pretty much a given for all self-publishers. Given that blogging is also an important facet of author promotion, it can be easier to use a blogging platform for the overall website. It's very possible to make a blogging template function as a commercial website.
The two biggest blogging platforms nowadays are WordPress and Blogger. Though there are very credible sites using the free WordPress.com service (see davidgaughran.wordpress.com), it can be slicker to have your own author.com (or book.com) URL using WordPress.org. With WordPress.org, you'll have access to hundreds of different plugins, which can be used for shopping carts, social media integration, SEO, and whatever else you might need – most for free. Adding new plugins can be fun (kind of an obsession here at SPR, which uses WP).
With a self-hosted WordPress site you'll need a decent webhost. SPR uses Bluehost, which has been hit or miss in recent months. GoDaddy (despite its advertisements) has a better track record for speed and performance, though Bluehost is said to be more user-friendly.
Of course it's also possible to hire a professional web designer, but this can run you $250 or more, while premium templates are in the $40-$55 range. These templates work right out of the box and normally have good tech support. The downside is sharing a template with other writers, but it's possible to tweak a template with different colors and layout to make it more your own.
See below as well for free templates that can work decently for an author site. Keep in mind that these templates don't offer tech support from the designer and may take some back-end hacking to make some tweaks.
Premium Author Themes
Bookish has been designed for e-book authors and marketers alike and combines everything you need to quickly get your product noticed! It is a clean responsive WordPress theme suitable for book authors, ebook writers, marketers, digital products, or similar websites that needs a feature rich yet beautiful presence online. It is created with a responsive design which makes it a perfect fit for all devices.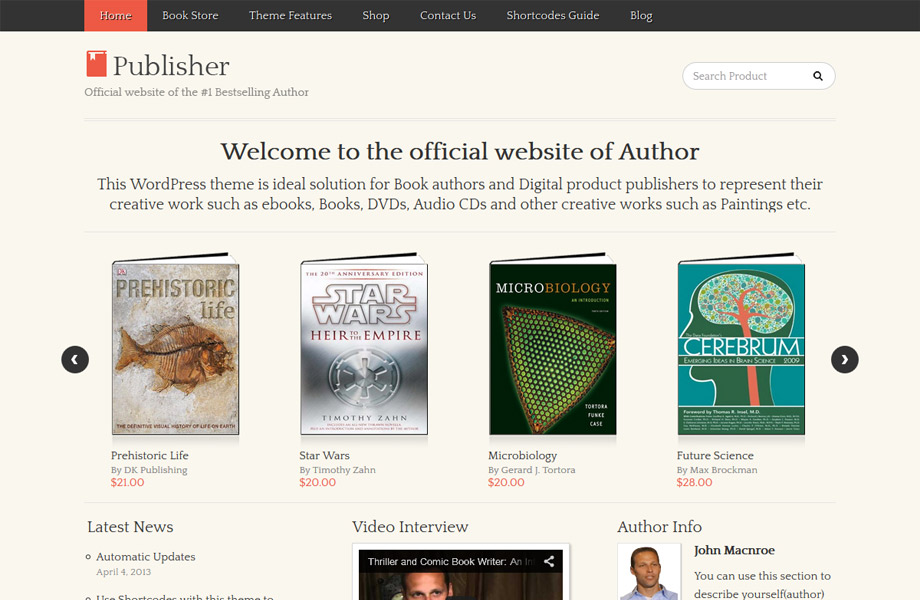 Publisher is one of the most complete WordPress app themes on the market today. With it you can not only showcase your eBooks and other digital products, but also sell them.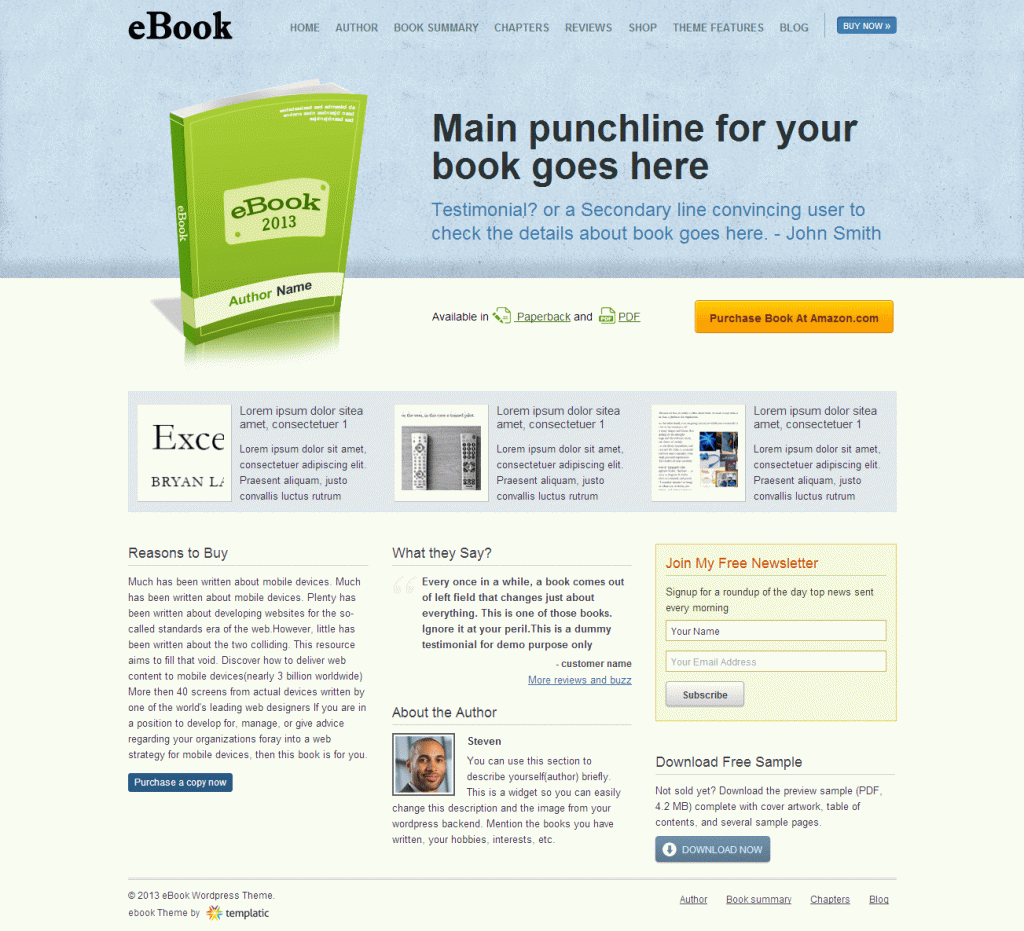 eBook premium WordPress theme is designed to help you sell books and other products. The theme comes with full WooCommerce compatibility meaning you can sell both digital and physical products. Because of its simple design and straightforward setup the theme is ideal for all those looking to get started as quickly as possible.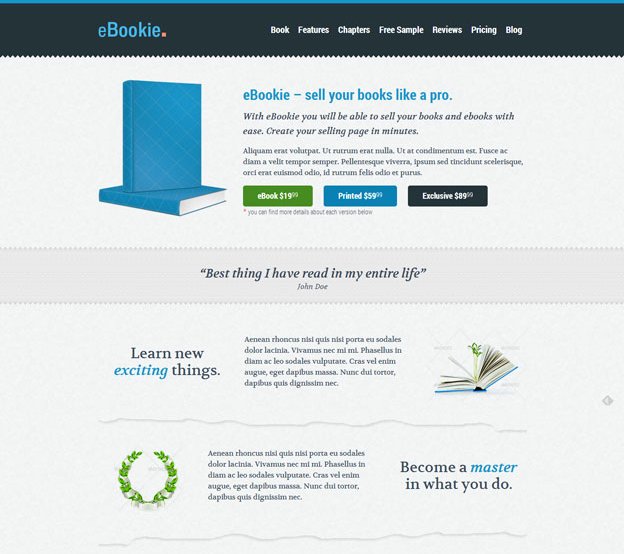 eBookie is a book landing page. It's great for selling your ebooks as well as your real, printed books. But not only that! Aside from the One-page design you have an integrated blog. You can use it to write more about the book you are selling, use it to promote other books you sell or just use as a review place for other books like yours.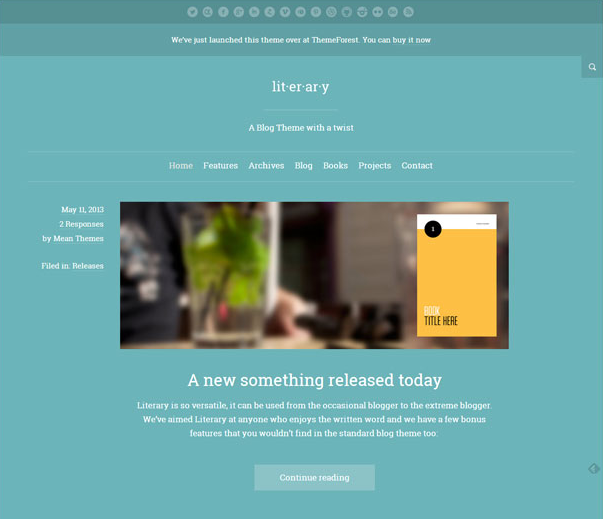 Not only is Literary a beautifully crafted blog theme, it also comes with a post type for showcasing your books and a post type for your portfolio. So whether you are a blogger, a writer, an author, an illustrator, designer or in fact anyone – Literary is for you.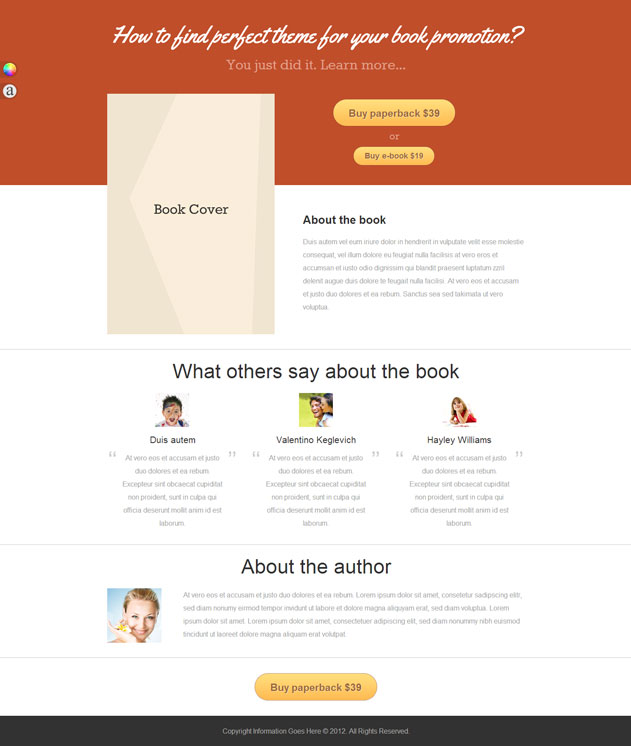 Booker WordPress theme is best suited for all those great internet marketeers who are releasing their own printed or E books. Booker WordPress theme will give your book the best and easiest online promotion.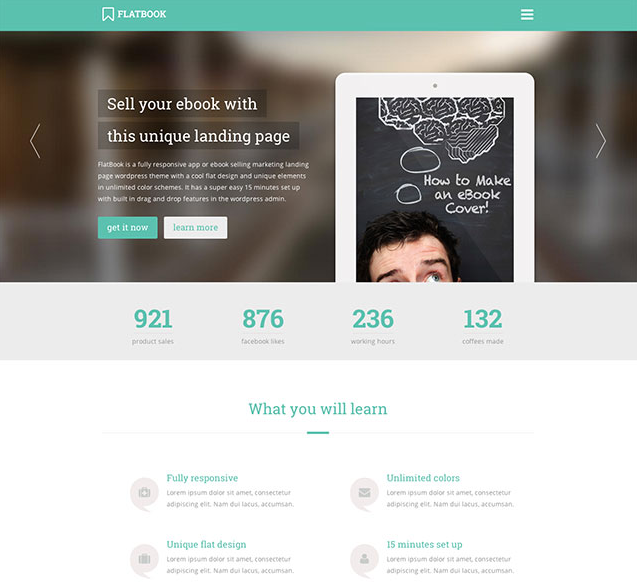 FlatBook is a fully responsive ebook or book selling landing page wordpress theme featuring a minimal, trendy but unique flat design in unlimited color schemes. FlatBook Ebook Selling WordPress Theme suits perfectly every business or individual who would like to showcase their ebook, book or any kind of publishment with a clean onepage marketing landing page in a sophisticated, eye-catchy way.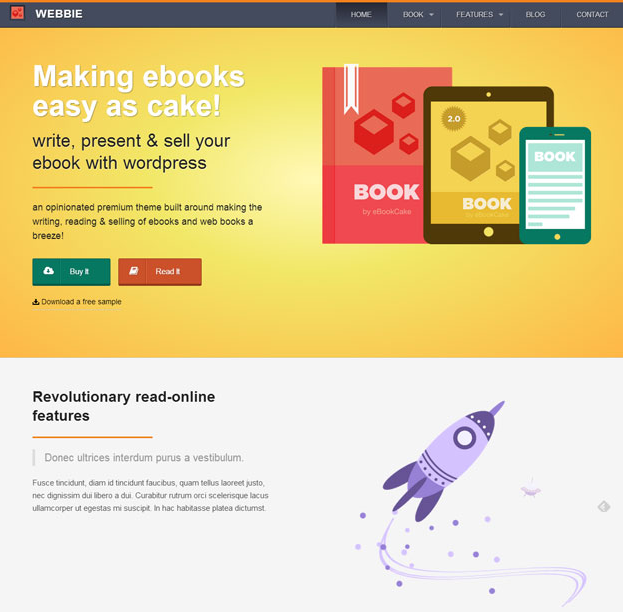 Designed with a dash of simplicity, a pinch of minimalism, and a healthy helping of elegance, Webbie is theme that lets you write, present & sell your ebook on wordpress with ease. It's a responsive, opinionated premium theme built around making the writing, reading & selling of both ebooks and web books a breeze!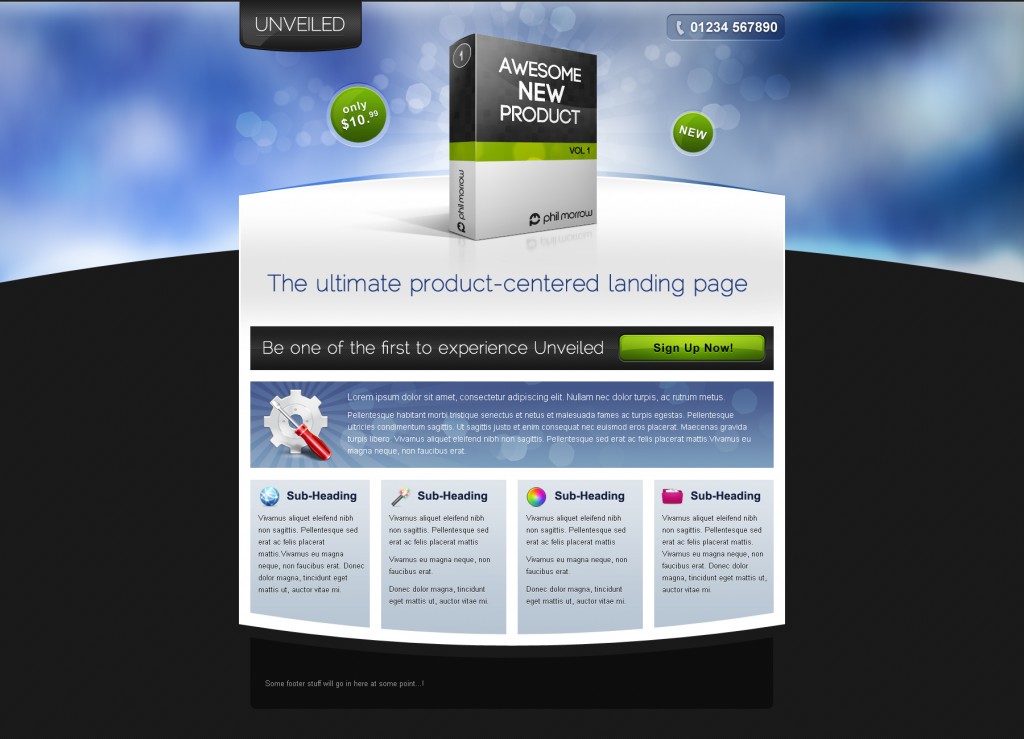 Unveiled is the ultimate product-centered landing page. With an eye-catching design, the call-to-action high-up the page and an impactful splash intro – this theme is sure to convert your visitors into customers.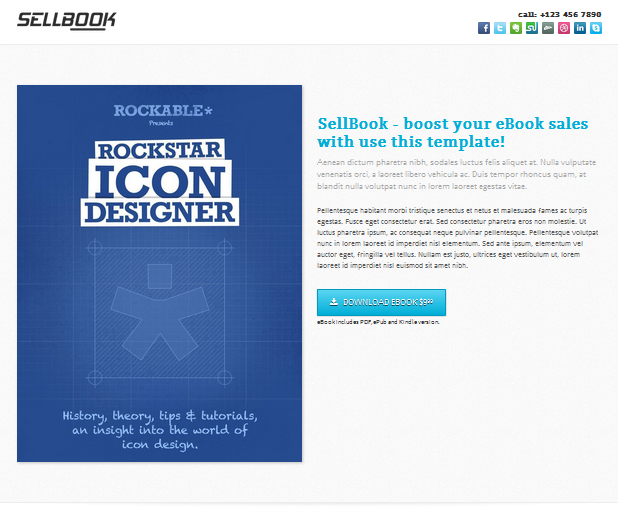 SellBook is a template used for sell of your book that built with very cool responsive template, cool design, clean template, elegant color and a slew of features. This template completed with 2 layouts and 8 colors option that you can choose your own.
Brown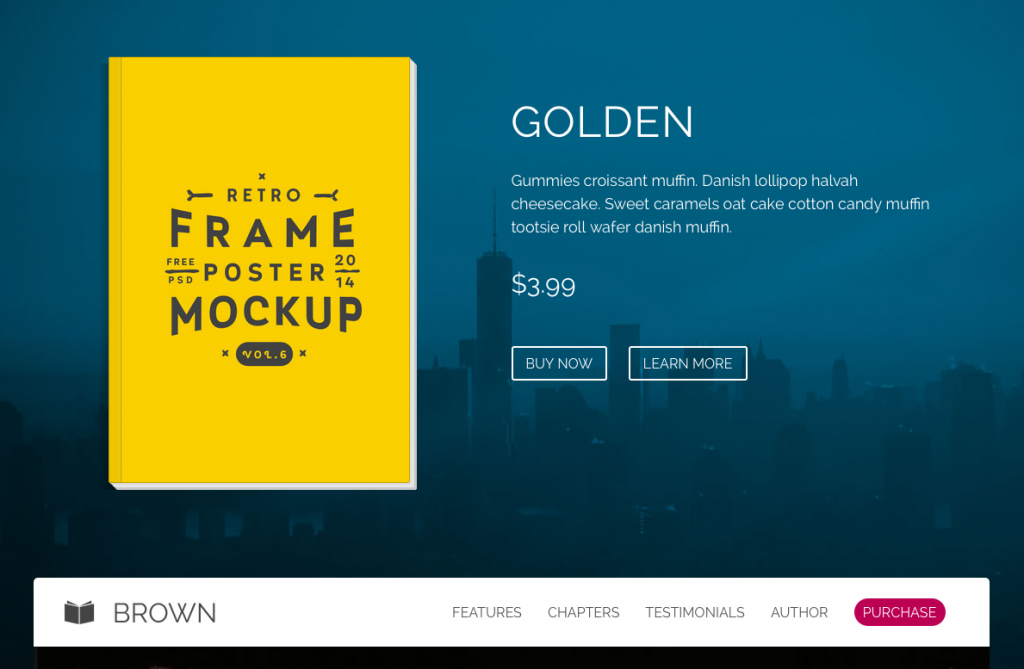 Brown is a responsive WordPress theme designed for eBook authors and marketers with everything you need to quickly create awesome landing page for your product.
Premium Bookstore Themes
Bookstore is a clean responsive WooCommerce powered WordPress store theme suitable for book stores, libraries, book shops, digital products, ebooks, software apps or can be used to create affiliate sites linking to store like Amazon and B&N. It is compatible with all modern mobile devices. Other then being an eCommerce, it also has portfolio included.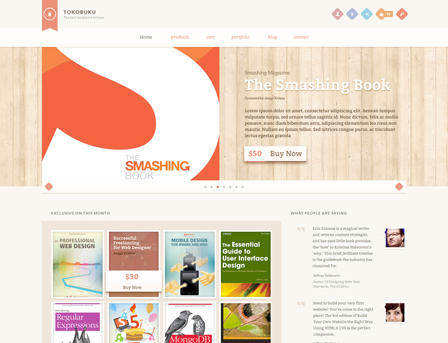 RaakBookoo is a multipurpose theme specially built for a bookstore, publishing service business or book-author official website. Every pages come with multiple layouts and useful features to give you more options in customization.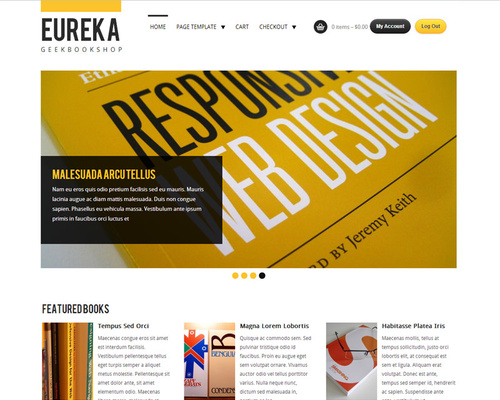 Eureka is a minimalist and elegant theme best suited for e-Commerce websites. It's perfect for bookstores and other type of online shops. The theme enables you to quickly and easily list all of your products. Your visitors can search for products that meet their criteria, such as price range or features. The theme includes a large product slider in the header for presenting your products.
Free Author Themes
There are literally thousands of free wordpress themes to choose from, but grid themes are a good bet because they show book-shaped images on the homepage. Other slider-based WordPress themes will only show a horizontal image.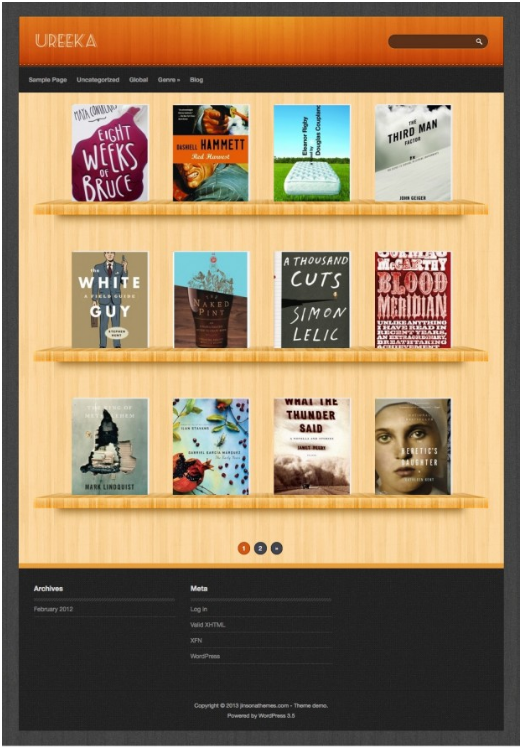 Ureeka is our new special fabseries theme that you can use to run a book review site. This theme uses latest WordPress features like Custom post types, taxonomies, metaboxes etc to create this review theme. The design of the theme itself is inspired from the iBooks app which I believe is the best layout design for anything related to books.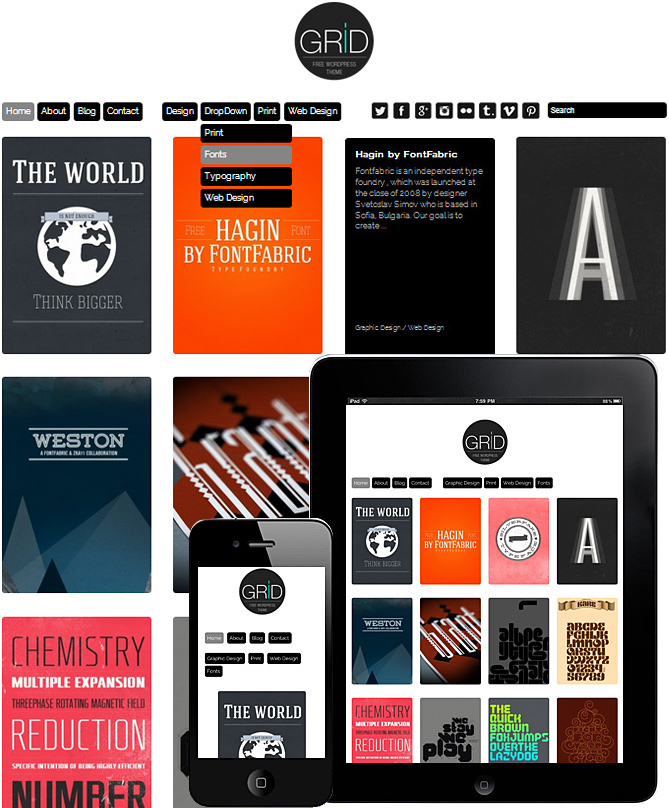 Grid Theme Responsive is a WordPress Theme with mobile responsive design, featuring infinite scroll. Grid Theme is perfect for any creative to showcase their portfolio.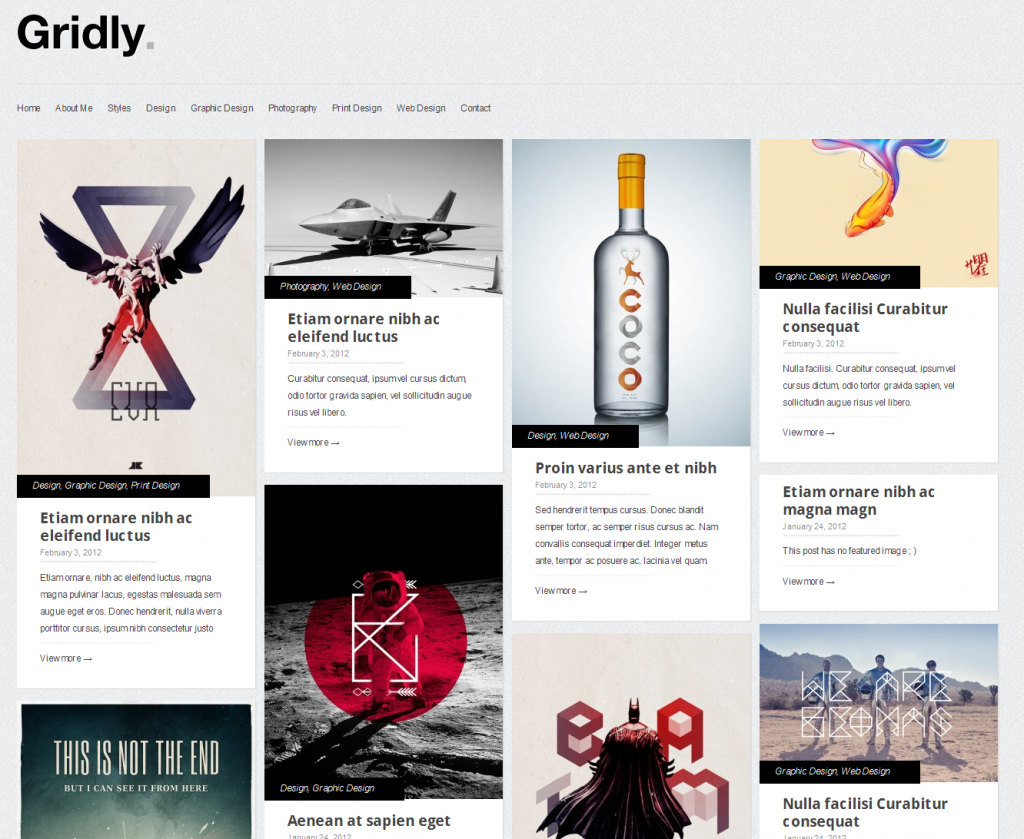 A free minimal & responsive portfolio theme ideal for graphic designers or photographers.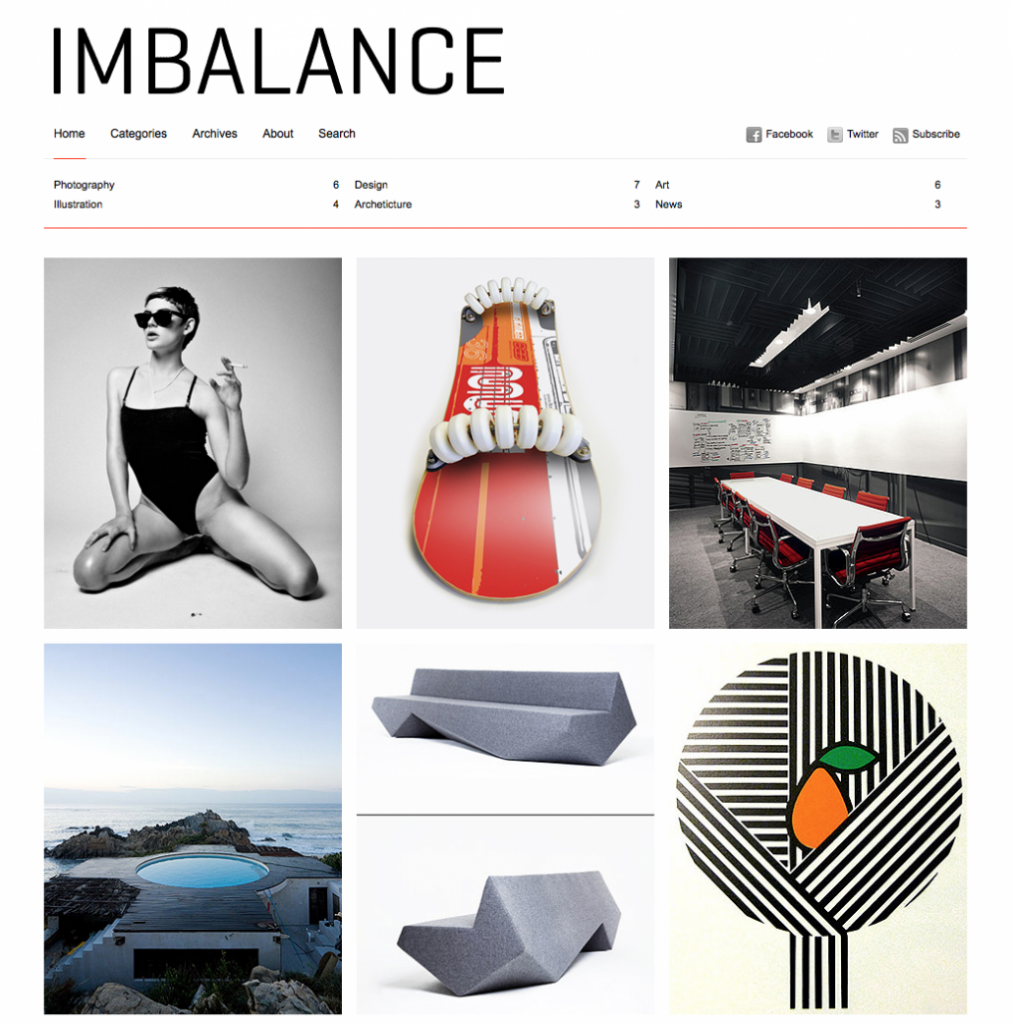 Imbalance is an excellent solution for online-mag, blog or portfolio. User-friendly layout can attract new visitors and vibrant minimalistic design can easily fresh-up your project.
See also: Imbalance 2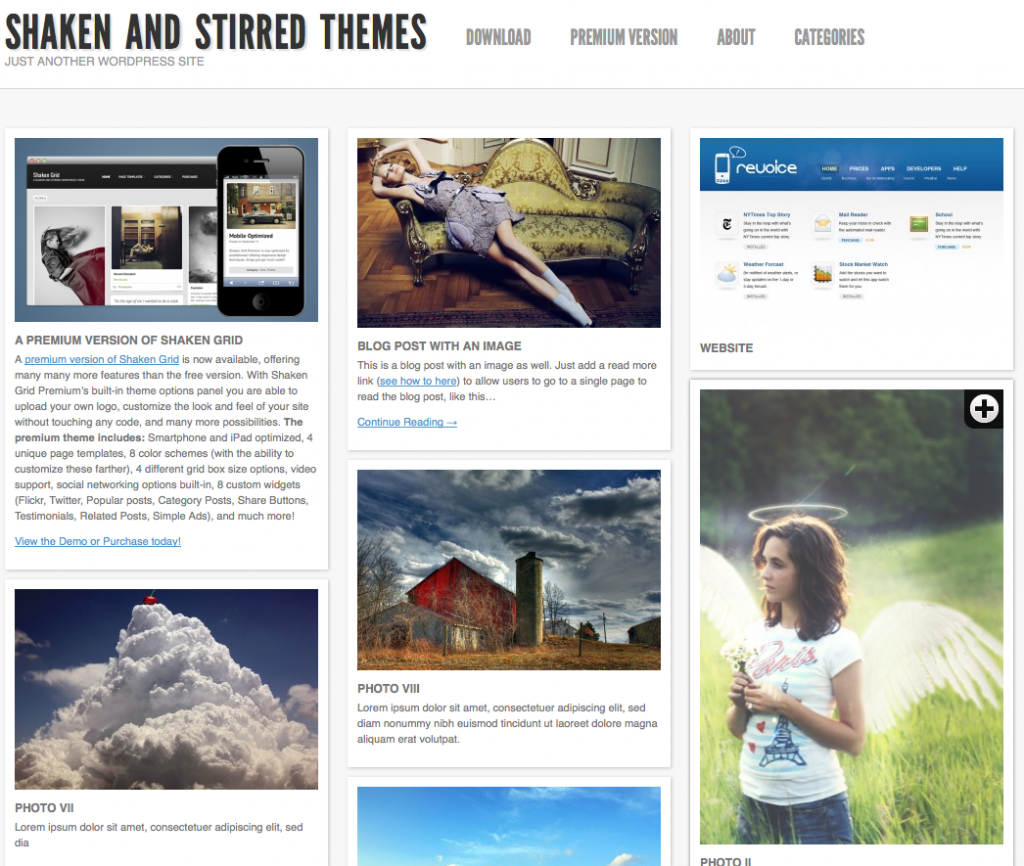 Shaken Grid uses jQuery Masonry which "arranges elements vertically then horizontally according to a grid." The result is a gap-less layout even if you have varying post heights.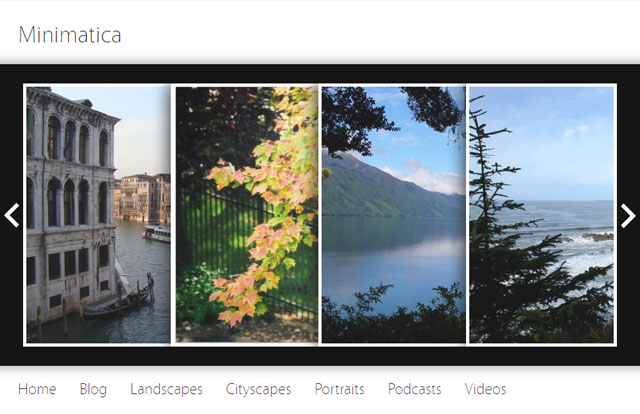 A stylish and modern minimalist theme with a beautiful image gallery slider and an optional blog view. With support for post formats, audio and video playback, ideal for showcasing photography portfolios or podcasting but also great for your everyday blogging.