★★★★½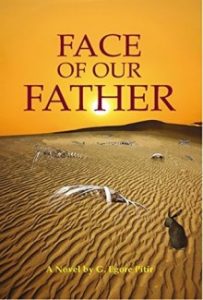 Face of Our Father by G. Egore Pitir is an exciting new entry into the burgeoning terrorist thriller genre. There's a growing list of novels centered around the Middle East, so it's tough to stand out. Face of Our Father is a unique and compelling addition to the genre, a thriller in which character development is a core part of the story, making it a multi-layered and satisfying read.
Captain Stu Pierce is an aging fighter pilot who's past his prime though headstrong and principled. His wife, Angie, is still in the thick of it – a lawyer and women's advocate – chasing down a vile Middle Eastern criminal who's escaped justice. When Angie is threatened with death, Stu needs to come to his wife's aid, and together they become embroiled in a global terrorist plot with repercussions for world peace and the fate of their marriage.
In most good guy plots where a spouse is in peril, it's usually the picture of a happy marriage where the protagonist aims to save that domestic bliss. What makes Face of Our Father unique – and highly effective – is the dynamic of Stu and Angie's marriage is anything but idyllic. There's is a marriage at the crossroads. Stu is unhappy that his wife is taking so many chances; their marriage was already feeling strain before dealing with the strain of a global terrorist plot, so Stu is conflicted, and their marriage may not survive the turmoil.
The novel could have devolved into sentimentality or melodrama, but it never does. Stu and Angie's marital difficulties seem very real, as does the terrorist threat. Each conflict ups the ante of the other. Pitir's greatest strength is making this a nail-biting page turner, while still retaining character depth normally found in character-driven literary fiction. This is most certainly a thriller at its core, and so its a best of both worlds that will appeal to thriller and literary fiction readers alike.
And then there are the Middle Eastern characters, also well-rounded and complex. Though the terrorists are blood-thirsty and evil, they are not one-dimensional. This is not a scenario where you generally find nuance, but Pitir's strength is making characters believable and their actions urgent. Each chapter ends with a cliffhanger, not just about the core mystery of the plot, but how characters will react to each situation. When you couple that with Pitir's aptitude for writing action sequences (including an incredible sequence on an airplane), this is one of the better global thrillers you will ever read.
The main rough part is that the novel is a bit slow going at the beginning, which is a shame as that may turn off some readers who might not make it to the point where the novel really gets going. When it does get rolling along, it's the kind of book you don't want to put down and don't want to end.
All in all, Face of Our Father is a great addition to the terrorist thriller genre, and given that there's a sequel ("Face of Our Mother" due to arrive in 2016) this has the potential for a major new series as well.
Links
Author Website
Amazon
Smashwords
Goodreads