★★★★½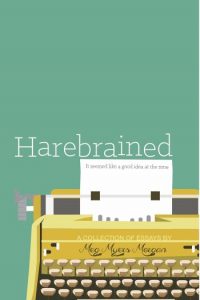 Harebrained: It seemed a good idea at the time is a delightfully humorous collection of essays by Meg Myers Morgan. The essays cover many aspects of motherhood, good and bad jobs, education (her own and her kids'), higher education, becoming a writer, and many more topics in spirited and engaging prose. There is also a three-act play thrown into the mix.
In a way, the collection seems like the essay version of the popular blog, "Hyperbole and a Half," including a similar brand of irreverent wit and self-deprecation. This is high praise, rather than suggesting that its derivative of someone else's work. Morgan certainly has her own unique voice. Her writing is self-assured, even when she's expressing self-doubt.
With selected essays appearing in BlogHer and The Chronicle of Higher Education, Harebrained is a lesson in writing the autobiographical essay. Though some of these pieces originally appeared online, the book doesn't read like a repurposed blog. The book may be described as "the collected ramblings of Meg" (a phrase I dislike, as it makes the collection appear more haphazard than it is), it is more finely-tuned than that, reading more like they could appear in "The New Yorker" than Blogspot. Her observations are sharp, incisive and often very funny.
What makes the book most effective is Morgan's candidness and honesty. She is funny, on the one hand, but is also unafraid to cover darker moments in her life as well, such as the her daughter's illness and postpartum depression. It's these moments that make the collection really come alive. A "humorous collection of essays" might suggest that the book is lightweight. The writing is breezy and light at times, but Morgan's collection covers the gamut of emotions, making the book more moving and effective, and gives the humor extra weight.
Some essays are more inspiring than others, which may be unsurprising in a book of close to 40 chapters. At times, she does veer into minutiae (for instance: checking out at the supermarket). However, it's a testament to her aptitude as a writer that even these moments are still lively, even as she's writing about something entirely mundane. A first person account of a life's every detail could read like self-absorption, but there's no hint of that in Morgan's prose. The book is no doubt self-examining, but with enough self-deprecation that she never takes herself too seriously.
The book could also have used more of a theme. The variety of topics covered does make the book engaging, but there is no unifying arc to her story. Though she's had her share of problems, there is nothing here that is overwhelmingly dramatic. But then, that may be more like life. These are more snippets of a normal life.
All in all, Morgan has a strong narrative voice that varies enough in tone and scope throughout the book to keep a reader engaged. The book is most certainly aimed at a female audience, and it's a good bet for new mothers, and especially moms who are juggling motherhood and a career. Her honesty and humor are comforting, and you'll feel like friends by the end of the book.
Links
Author Site
Amazon
Goodreads