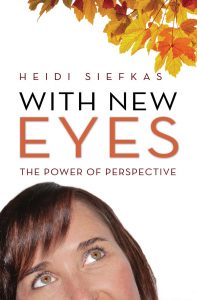 With New Eyes is the moving sequel to Heidi Siefkas's memoir When All Balls Drop, about Siefkas's accident: taking out the trash one day in upstate New York, a thousand-pound tree branch fell on her from out of nowhere, breaking her neck. That wasn't the only thing that broke: her marriage (already difficult) dissolved, and she lost her high-powered job in the travel industry. With New Eyes picks up where the first book left off: Siefkas is healed up, for the most part, but now has eyes on putting her life back together.
In clear and eloquent prose, Siefkas tells of her life after the accident: visiting her small hometown in Wisconsin (only 1400 people!), selling her house as a way of getting over her divorce, going scuba diving again, her taste for exotic men, and other tales. All are told with cheeriness and poignant lucidity. Even without the injury, the events she's describing have an urgency and immediacy all their own.
Having not read the predecessor, When All Balls Drop (reviewed here on SPR), I don't know the full brunt of the story, and Siefkas could have included more information here for the uninitiated. She touches somewhat on the accident and her therapy, but as it's core to what separates her book from others on the shelf, I would liked to have learned more on just what it takes to recover from such a tragic accident – physically as well as emotionally. Of course, that may just be repetition for fans of the first book, but they might be understanding, and even grateful, of a refresher on the events that transpired.
Through it all, however, Siefkas is a engaging and gifted narrator. "Engaging" is too light a word: there's an addictive quality to With New Eyes, and strangely this isn't because of Siefkas's accident. Aside from the accident, Siefkas's tales from her life are fairly ordinary, but still she tells her story in such a way that you're compelled to keep reading. You'll become friends with Siefkas as a narrator and read on to see how she gets by, even if her life – beyond the accident – is not intensely dramatic.
This may not be her intention: seen through the lens of her recovery, every step may feel like an enormous leap. But in the book, it doesn't exactly – her dating life isn't dramatically affected by her accident, for example. She may be wary of telling someone about her past, but all of the equipment…works.
Even so, given her engaging voice and clarity of prose, these small stories from her life keep building, making for an enjoyable and relaxing read. If she tied together these events more evenly with her accident, it may have been more inspirational, but given that most of us haven't lived through that sort of accident, tales of her life are inspirational enough: she lives life to the fullest of her ability and comes out on top, no matter some stumbles along the way.
The best way to describe this book is: quietly riveting. It's not an earth-shaking story. Even with the terrible injury, it's mostly about one young woman's path through life. In that way, the book has universal appeal. It's not an "injury recovery memoir," it's a book about life, and you'll come away looking at the small details in your own life with a little more clarity. For a memoir, there may be no higher praise.
Links
Heidi Siefkas' Author Site
Twitter
Amazon
Goodreads