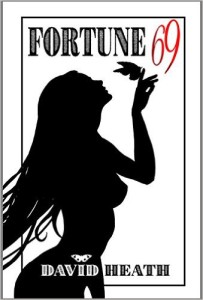 Content warning for depictions of suicide and sexual abuse.
On the Internet, there is a website that caters to every depraved and bizarre interest on the planet, mundane or otherwise. Like the Wild West of old, there are no rules, except that you never let what happens there cross into real life. Here on the anonymized "Fortune 69" dot com, reality is just what you make it.
Fortune 69 is David Heath's debut novel, previously the writing talent behind Bilateral Comics and contributor to several short story anthologies. Heath describes himself as an author of "transgressive fiction," which is apparent within a page of this novel. The very first line of the book is an uncomfortable description of bizarre and shocking pornography, soon followed by the half-repulsing, half-heartbreaking account of a man driven to suicide by pure apathy. This man is Trigger, a 28-year-old out-and-out self-described stereotypical "loser virgin." He discusses the depravity of his sub-mediocre existence while also graphically wallowing in the exact planned details of his suicide, from conception to graphic finality as his mother calling sweetly along to him behind a locked door.
The main arc of the plot comes soon after Trigger unexpectedly finds himself awake, and somehow finding himself slightly refreshed with the whole affair out of his system. It's only when he checks his work e-mail that he realizes his error: a drugged-up post on his digital playground went cult viral, and he can't even check what it said anymore. Only an e-mail from hacker "Trance" can lead Trigger into finding out what one thing he's ever done in his pathetic life could have had any meaning to other people.
Fortune 69 is definitely a deliciously unpleasant book to match the equally juicy but unpleasant subject matter, along with dirtied characters that wrap themselves up in the whole sordid affair. The book is rife with misery and a kind of militant despair that stands evocative of the same caged-beast masculinity in books like Palahniuk's Fight Club. The same progression from harmless expression to the whiffs of conspiracy and willful personal endangerment for petty reward are similar, although the exact conclusion to the developments between Trance and Trigger are for the reader to find out. The love-hate suicide girl stereotype is even toyed with, a powder keg lit by the mercurially hazardous Charity. It's hard not to take cues from one of the genre's best, admittedly, and the book makes a convincing update to the core principles of online mob tactics to make it a worthwhile one to watch.
The "transgressive" nature of the book goes beyond shock value into some solid points about modern life and politics, though never ceases to be at least mildly disturbing. The book is creepy and nerve-wrenching to the end, somehow in a creatively good way.
The presentation of the book is very pleasing, cover to cover, and the text well edited to be clear in what it communicates, though the cover somewhat masks the exact darker nature of its contents.
Links
Amazon
Goodreads
Twitter