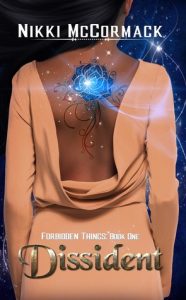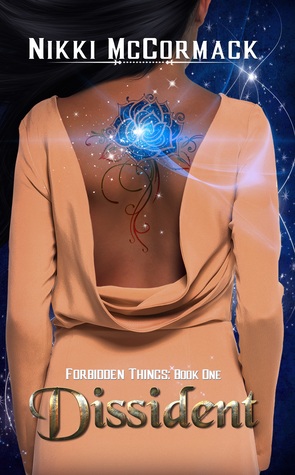 Dissident: Forbidden Things Book One by Nikki McCormack is a rollicking epic fantasy novel.
Indigo has great power, but her country, Caithin, has placed severe limitations on the use of ascard, which can strengthen, heal, and create. It can also destroy. Indigo, an orphan from a disgraced family, is engaged to an abusive and jealous man and is afraid to leave him because of her tenuous situation in society.
Yiloch, the prince of Lyra, wants to overthrow the mad emperor, who is also Yiloch's father.
When Indigo and Yiloch meet their lives change as well as the fate of their countries.
McCormack does a wonderful job of world building avoiding the dreaded info dumps. Instead, she casually introduces ascard and its effects within the story, making it believable and non-intrusive to the storyline. This ease helps keep the reader engaged in the story and not trying to wrap her head around a complicated magical system that seems foreign. Treating it as normal helps the reader accept it at face value.
Like many fantasy novels on the market, the author focuses on the political systems and intrigue within the two countries. While both nations are fictional, the underlying issues are still prevalent (unfortunately) in today's society. However, since the story is based on fictional entities, this allows the author leeway in making political connections and providing a framework for commentary.
Racism, slavery, domestic violence, and sexuality can be polarizing issues for many from different political, social, religious, and economic viewpoints, but cloaking them in a fantasy world is a creative way to engage openly and hopefully will foster an honest dialogue. This doesn't mean the author has a political agenda and it doesn't come across that she's on a soapbox either. It's refreshing to encounter ideas without the fear of walking the pervasive politically correct line that's crippling conversation as of late.
The strongest aspect of Dissident is the character building. Many fantasy novels focus on the action and adventure aspects of the story. McCormack allows her characters to drive the plot. Indigo is a strong woman who has endured a lot. Yet, she's in an abusive relationship. Not everyone will relate to her completely, but many have had to deal with past mistakes and sometimes these mistakes shape how we live in the present.
Yiloch is intriguing as well. He comes from a privileged background and is used to having his way. At times he comes across as a user of his friends and supporters. At other times he's sensitive. He's not the type of man many will take to right away. He's a fierce leader and when he makes up his mind, he acts, rightly or wrongly. Oddly his polarizing ways make him endearing on some level because one has to wonder what made him this way. Yiloch is the type of person that has many layers and in the first book of the series, it's hard to imagine that we've been let in completely by the author. What surprises does she have in store in the next installment?
Dissident is an excellent start in the Forbidden Things series.
Links
Elysium Books
Facebook
Twitter
Amazon
Goodreads