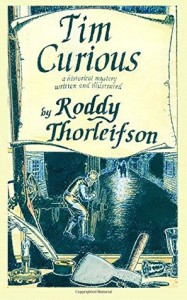 Tim Curious: A Murder Mystery of the American Revolution, by Roddy Thorleifson, is a wonderful young adult historical fiction novel that'll charm readers of all ages.
Young Tim Euston wanted to fight with George Washington, but he was considered too short and sent away. Can he support Washington's troops another way? One incident rapidly changes Tim's life. One night in January, a man attacks Tim's fourteen-year-old sister. Tim rushes to her aid, but he's arrested for robbery. The only adult who could testify on Tim's behalf is found dead. A man is found guilty of the murder, but is he innocent? These events lead to Tim becoming involved with smugglers and spies. Will Tim survive? And will he uncover the true murderer?
Historical fiction is such a fantastic way to encourage young adult readers to learn about the past for the simple reason that it doesn't feel like learning. It's fun when executed correctly. Fill the pages with too many facts and not enough story elements and it reads more like a textbook. Tim Curious avoids this pitfall. The story is entertaining, exciting, funny, and full of adventure to keep readers invested in the plot. History lessons are present, but it's secondary to the overall story. Just the way it should be.
Tim and his sister Sadie are excellent characters. Right from the opening pages, the reader is cheering for them. They live in Yonkers with their mother, but their father is married to another woman, making life for the siblings hard. Neither is an adult yet, but both work long hours to keep a roof over their heads and food in their bellies. Yet, the siblings aren't overly bitter about their station in life. They're hard workers, honest, and loving towards each other. This makes them endearing.
Tim Euston is often called Tim Useless, a play on his last name. This bullying is pervasive in Yonkers, but Tim is pretty good natured about it. Also, he uses this stigma to his advantage, much to the delight for the reader. Cheering for the underdog is almost a part of the American fabric.
The brother and sister work together piecing together clues about the town's murder. But that's not all. Tim finds himself mixed up with people he doesn't entirely trust. Tim is brave, but he wants to know if his actions are helping the King or the American cause. Sadie is afraid for Tim's safety. She goes to great lengths to protect her brother. Tim's journeys back and forth from Yonkers to New York City are fraught with dangers and dread. These scenarios really heighten the suspense and having the siblings so involved in the action is a marvelous way to keep young adults actively engaged in the story.
Roddy Thorleifson is not just an author. He's also an illustrator and there are many wonderful illustrations that add to the overall presentation of the novel.
Tim Curious is the perfect story for readers of all ages who enjoy American history, intrigue, and adventure. Even American history buffs may learn a thing or two.
Links
Roddy Thorleifson's Author Site
Amazon
Goodreads