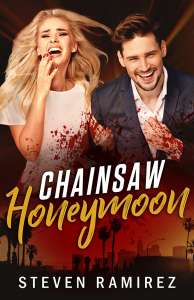 Written with manic energy and a tongue perpetually shoved in its own cheek, Chainsaw Honeymoon by Steven Ramirez is a brilliant new novel that balances humor and horror in an unforgettable way.
Ruby Navarro is a young girl with big dreams and a tangled mess of family that she is determined to fix. Spending the summer with her father sets the stage for a fast-paced and unpredictable ride through the wild world of Los Angeles, complete with a maniacal killer and the chance for Ruby to live out her wildest dreams.
The writing throughout the novel is sharp and smart, depicting the City of Angels like a key character, setting the stage for the plot to unravel, while also capturing some of the strangest sides of the film industry. Ruby is a precocious and fascinating narrator, and the supporting cast of friends, actors, and unexpected allies drive this novel forward. The snapshot scenes are vivid and believable, with the natural dialogue seemingly torn from the tongue of reality.
While some of the internal monologue moments are a bit heavy-handed and overly leading for readers, the vast majority of this novel is subtly executed and wisely worded. Steven Ramirez dances between genres and moods with ease, delivering a memorable story that is alternately hilarious and horrifying.
Links
Author Site
Facebook
Twitter
Amazon