Futureproof is a self-publishing success story.  Begun as a Lulu book, it is set to be released by Harper Perennial this month.  For anyone looking to promote a self-published novel, N. Frank Daniels is proof that aggressive marketing of a self-published novel can reap rewards – and getting a book out into the world can lead to good things.  Frank Daniels was able to sell thousands of copies of a Lulu book and then land a publishing deal with a mainstream publisher.
The novel began as this: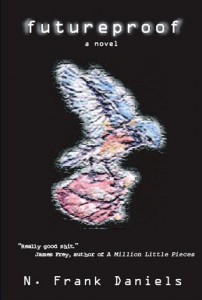 In January 2009, it will be released as this: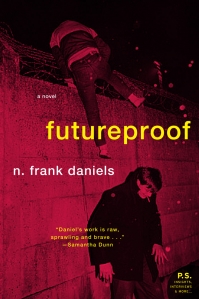 His marketing tactics were unique: he sent out the first hundred pages of the novel to a long list of Amazon reviewers and other literary people.  He generated quick interest in the book, getting a quote from James Frey, author of A Million Little Pieces – "Really good shit."  Most of all, Daniels was persistent.  Some would say obsessed – to the point where he's fallen on some hard times.  To that degree, Daniels is both a success story and cautionary: a writer who's driven to succeed in the publishing world but other parts of his life suffer for it.  But there's one thing that's certain about N. Frank Daniels: he's the real thing.  His success, and his life, prove it.
The Futureproof Novel
The best thing about Daniels' writing is its clarity.  There isn't a wasted word, nor is it ever unclear what he's expressing.  It's likely that this is what first got the book into trouble with mainstream publishers.  There is no overly-descriptive writing here.  He's not a writer who writes around a subject, as is the case with a lot of literary fiction.  This is Charles Bukowski-style writing.  And though Bukowski is amazingly becoming a part of the literary canon, this isn't quite the response he had early on, and Frank Daniels fell into some of the same roadblocks.
And Daniels could become a next generation Bukowski.  He covers some of the same ground – sex, drugs, underground life.  In Futureproof, the vice is heroin, not Bukowski's alcohol, and Futureproof is one of the best drug-addiction novels ever written, alongside Tony O'Neill's recent Digging the Vein (a writer who also went from a small press to a mainstream publisher), and rivaling William Burroughs for its window into the highs and low of drug addiction.
In this way, if you're looking for light reading, don't go here.  Then again, if you're looking for powerful writing that will stick with you afterwards – weeks afterwards – read Futureproof.  It's amazing and a sign of the times that it was this hard for Futureproof to find a taker.  Three of the most popular modern novelists – Henry Miller, Jack Kerouac, and Charles Bukowski – all wrote veiled autobiography in a similar vein.  Yet publishers were afraid to take a chance on Daniels' novel.  That a mainstream publisher has finally come on board gives some new hope to self-publishing and anyone looking to write darker fiction.