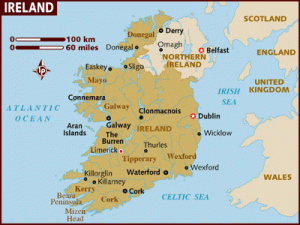 I wrote an article over Christmas about book retailers in Ireland performing marginally better in 2008 than on previous profits for 2007. Early figures suggest that the UK book retail trade recorded similar results, but that they still were marginally down last year. While better sales than expected might have raised the bar of expectation—it seems early 2009 may see that optimism short-lived. There is much discussion amongst UK retailers about the strategy of committing themselves to larger discounts for the buying public.
Unit for unit, there are more books going out the door of retailers, but the profit figures for 2008 seem to suggest that without the extenuated discounts, profits would have been significantly up. Borders, Waterstones, Eason & Sons, Hughes & Hughes and Hodges & Figgis are the flagship book retailers in Ireland. Nielsen Bookscan released figures in December which recorded unit sales up 15.4%, but the values of those sales were 8.6%. What we can tell about the UK market, which has been mirrored in Ireland, is the buying public are actually spending more on books year by year. However, the strain is hurting UK retailers a little more.
In an article in The Irish Sunday Independent by Alison Walsh, Kevin Barry, Managing Director of Dubary Books, says, "In shops where you would be exposed to the tourist market—certainly it would seem to be more than the figures indicate (the downturn and reduction in profits). It seems to me that the bookshops that I have, which are more exposed to the tourist market, have suffered more."
You only have to walk into your local WH Smiths, Waterstones or Borders stores to see the real passion and patronage of the buying public to realize that they are doing all that can be expected of them. They browse, they buy, and they read. The UK market has more of a choice in retailers, and significantly more distributors and wholesalers. This might have led to more aggressive promotion and discounting. So, if the buying public are doing their bit, in general, where does that leave UK distributors and publishers?
According to Steve Plackett, a Business Development Manager at Ajanta Offset Printers, 'The poor old publisher is stuck in the middle; they are getting pressure upwards from W H Smith and Waterstone's and downwards from the printers. They can't easily pass on price increases.'  The nub of it seems to be the control the large high street chains and wholesalers have on publishers and distributors. The answer clearly does not seem to be to allow retailers to hurl discounts out at the buying book public and then step back and consider their good deed done and any distress in the book industry 'couldn't possibly be their fault, as, after all, they are looking after the public'. The fact is, the discounts have to be made up somewhere, and someone in the industry isn't having steak with their fries this Friday.
A further concern is emerging in the print industry. The sterling pound is continuing to struggle against the euro and the dollar is also engaged in its own global and economic dogfight. Print costs are rising significantly and it is due to the cost of paper—the raw stuff—the paper without the head of George Washington or The Queen! Cromwell Press and Alden Press will not be the last printers to go into administration. Tony Chard, Managing Director of MPG, said that paper prices had gone up 25% in just the last six months. 'We don't swallow the increase: we pass it on. We have no choice but to pass it on 100%. The margins just aren't there.'
The fact is that publishers are constantly revising and reducing their off-set print runs throughout the last two years. This in itself has to reduce the margin of profits. The pressures will continue to increase on publishers to revise their business models in 2009, and it remains to be seen if they are the ones in the driving seat with the ability to direct the true future of publishing. At this very moment, publishers are taking very cautious steps into 2009. Lay-off of staff continues, budgets being trimmed back are the order of the day. The list of spring titles from mainstream traditional publishers may be far less than was planned six months ago. The knockback for the buying public may be more limited than expected. The latest rumour mill suggests HarperCollins have signed Cheryl Cole of X-Factor and Girl's Aloud fame to write a series of 'chick lit' books. Being cynical minded, one wonders how quickly her team of ghostwriters can rattle out the first magnum opus.
Publishers this year are more likely to hold back on titles they believe will be critical to year-end profits until they can fully gauge the extent of the economic downturn. This is one area of marketing and promotion publishers believe they have some secret nuance, as if the know somehow that the buying public only feel 'right to read' at a certain time of the year. As Dan Poynter, self publishing guru, highlighted in an interview with ebook seller Smashwords this week—the six main New York publishers haven't changed their business model since 1947.
Clearly, for publishers this year, the commonsense strategy this year would be to consolidate and strengthen what they already have and hold. Publishers like Canongate and Penguin have already made the correct call. Their attentions are on digitising their back catalogue titles while being prudent in what they release and commit to this year. Publishers are only now properly using the benefits of print on demand technology for printing their long-forgotten back catalogues. The words of David Taylor of Lightning Source, a leading POD printer, will long echo in their ears this year:
'We've had a really good start to 2009. We're finding our model is very appealing to publishers looking to reduce inventory.'
The shrewd publisher who has been around for many years should know that in times of recession and economic downturn—the buying public are now nostalgic and reflective—a snickers bar, a handkerchief and 'It's A Wonderful Life' will get them going. The more pro-active buyer just wants to read a book which will educate and inform them on new skills for a challenging time. You can bet that cookery, educational, mind/body/spirit and business books will soar this year. The key selling buzz words in publishing at Christmas will be nostalgia, compilation and collection.