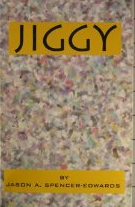 Here's an inspirational story.  Via Teleread comes the story of Jason A. Spencer-Edwards who sold his young adult novel, Jiggy, to the New York City school system.
Mr. Spencer-Edwards, a self-published author who lives in Laurelton, Queens, does not show up in the canon of young-adult literature. But with a combination of viral marketing and community service — he convinced the city's Department of Education to approve his books for reading lists, then barnstormed schools around the city, dropping off sample books and offering to speak to classes — he has built enough of a market to quit his day job as a paralegal and branch out to publishing other authors. In the past two school years alone, New York schools bought more than 50,000 copies of his books, in the middle to high range of purchases from new authors, school officials say…

Mr. Spencer-Edwards's stories of young black teenagers struggling with peer pressure, poverty and the temptations of money and crime have captivated students who have trouble relating to the white middle-class suburban world of Judy Blume or Sweet Valley High, said Karen Ford, the school's principal.
For young adult authors, this is a real lesson in book marketing: not only in how the book was sold, but in the subject it tackles.  Some subjects can bypass the stigma of self-publishing altogether, and certainly young adult readers care very little about how a book was published.