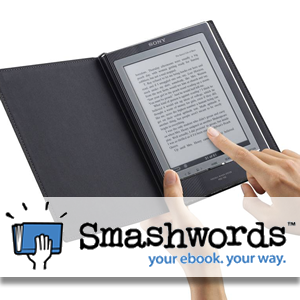 In a major development for self-publishers, Smashwords has reached an agreement with Barnes & Noble to have B&N distribute select titles on the site. From an email sent out to Smashwords members:
Smashwords is evolving to become a full service ebook distributor.  Smashwords will soon begin distributing ebooks to major online retailers, the first of which is Barnes & Noble and their various properties including Barnesandnoble.com, Fictionwise and their eReader app. We're thrilled about this development, because these new distribution relationships will dramatically expand your digital shelf space.

Not all Smashwords books will automatically qualify for distribution.  To qualify, the books must be accepted into our new Premium Catalog.  The requirements are mostly mechanical, and do not reflect a judgement of the quality or marketability of your work.  I encourage you to review all your books in light of the new requirements documented here so you can maximize the odds of your books being accepted to the Premium Catalog.
As some decry any evidence of "gatekeeping" in publishing, there may be some outcries about the "Premium Catalog," as all Smashwords authors will not automatically qualify. Even so, what makes this deal significant is that a major corporate entity has agreed to distribute a well-known marketplace for self-published books – further blurring the line between traditional and self-publishing. This could be a response to the popularity of the Kindle platform, which is easy for self-publishers to utilize. So now Barnes & Noble can declare to have a stake in the growing market for ebooks – especially those by self-publishers.
As Barnes & Noble recently purchased Fictionwise, this is additional good news for self-publishers, as Fictionwise has had a narrower criteria for listing ebooks – namely, they had to come from an established publisher. That said, there is also criteria to be part of Smashwords' Premium Catalog.  Read the full criteria here.  Most of these issues have to do with formatting, rather than content:
If your the body of your ebook says, "Published by Lulu," or "Published by WordClay," for example, we'll reject it. Your ebook is published by either by you (the author or publisher) or Smashwords. It should say "Smashwords Edition" on the copyright page. Other recommended or alternative language includes "Published by Smashwords," "Published by [the name of the publisher publishing it on Smashwords] at Smashwords," or "Published by [Authorname] at Smashwords." However, it's okay to say, "This book is also available in print at WordClay [or Lulu, or wherever]." We also recommend you include a hyperlink back to your author page at Smashwords, and you hyperlink to other titles you publish at Smashwords. Make it easy for readers to discover your works!
There is nothing in the criteria to suggest books will be selected based on the type of content, so gatekeeping criticisms will be kept to a minimum. All in all, it's a very good step forward for the potential of self-published distribution.