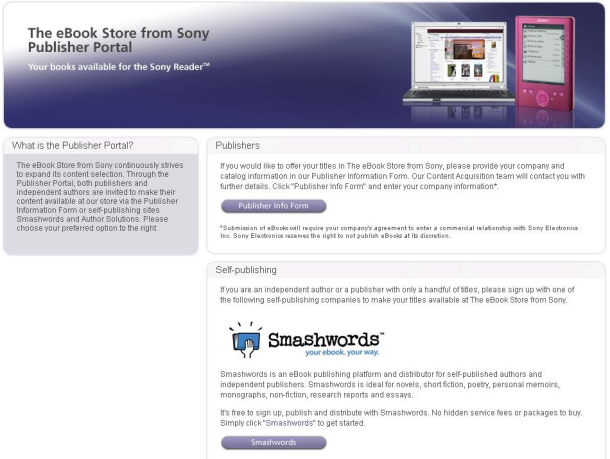 Big news from Smashwords with great implications for self-publishers.  Earlier, we reported on the deal between Smashwords and Barnes & Noble, which means that books published via Smashwords will also be distributed to B&N and other B&N properties like Fictionwise and the ereader application.  Now Smashwords expands its reach by teaming up with Sony to have Smashwords ebooks listed in the Sony ebook portal.
From Digital Beat:
Self-published authors can now visit the Sony Publisher Portal and click on Smashwords to sign up for a free publishing account. Then they can format a book in Smashwords' style andchoose their distribution preferences, and their book will be made available for immediate sale at Smashwords.com. The book can show up a few days later on Sony's eBook Store.
In addition to Smashwords, Author Solutions is also teaming up with the Sony portal.  Author Solutions has a large sale of the subsidy market: housing iUniverse, Wordclay, Authorhouse, and Xlibris all under its umbrella.  A major difference between the two companies is Smashwords is a free service.  It is unclear if Author Solutions is going to offer an ebook-only service to rival Smashwords, or if ebook distribution will be a part of one of its for-pay publishing packages.  For instance, ebook creation is part of Authorhouse's least expensive publishing package, starting at $600.  It's likely that Author Solutions is not going to offer an ebook-only service, as the company has made its mark as a print on demand services company.
Sony's Here to Stay
Not only is this big news for Smashwords and Author Solutions authors, but it's a major move for Sony, as they try to compete with Amazon and the well-publicized Kindle.  Sony recently unveiled its wireless touch ereader, which is going to be available in Best Buy, Borders, and other major outlets.  As demonstrated by the Kindle, independent authors comprise a significant share of buyers and sellers, so reaching into the self-publishing market is a good PR move and shows self-publishing's growing potential for profit.  As self-publishing continues to gain credibility and attention, this market is only going to get larger.
Read more on the Smashwords blog.