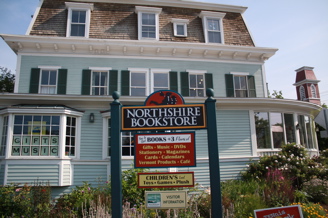 A guest post by Judith D. Schwartz, a writer based in Southern Vermont and author, most recently, of The Therapist's New Clothes, a memoir — and cautionary tale — about training as a psychotherapist. Her blog on using the Espresso Book Machine is: http://litadventuresinpod.blogspot.com.
As someone with a book manuscript making the rounds, I followed the growing acceptance of self-published work with great interest. It was reassuring to know that there were alternatives to letting the thing wither on my hard-drive. On the other hand, did I really want to do that? I mean, if I were a "real writer" wouldn't some publisher anoint me with its imprimatur, lunch at a mid-town restaurant, a page in a catalogue? But as publishing's fortunes looked weaker and weaker, the notion of bringing out a book on my own looked increasingly appealing. Then I learned about the Espresso Book Machine and, in a bit of geographical serendipity, discovered that the one independent bookstore in the U.S. with this technology was….my bookstore: the Northshire, in Manchester, Vermont. Late last winter I decided I would give one more "real" publisher a try. Meanwhile, I started researching the model. Indeed, by the time my agent passed along that rejection—to the effect of, "love the writing but I wish the conclusion were different"—I was actually kind of relieved.
The Espresso Book Machine is a single unit (the 2.0 model is about the size of a large office copier) that prints, binds, and trims a book. Within minutes of placing an order, a book falls down a chute, crisp and spanking new, much like a candy bar drops from a vending machine. The technology has received a good bit of coverage, mostly suggesting that it will revolutionize bookselling by making titles in the public domain available to buyers on-site. The Northshire, however, offers a complete print-on-demand program through its own imprint, Shires Press. This is how they present it on their website:
Shires Press can publish a beautiful paperback edition of your book that looks and feels like the real thing—because it is. Whether it's a family memoir, a cookbook, a town history, a novel, a children's story, or anything else, we can get your book published in a short period of time at an affordable cost. Whether you only want one book for yourself, or wish to sell your book widely, we can help. We don't have minimum quantities required and you don't have to be famous.
Click here for a clip from New England Cable News (NECN) that shows how the Northshire is making use of the machine. Here it is in action:
The folks at the Northshire have been great. They provided a straightforward publishing agreement that protects my rights and have been helpful with logistics, such as file formatting and obtaining copyright. One reason it's worked so well is that we're all approaching the venture in the same spirit: as an experiment. Like me, store manager Chris Morrow is looking for innovative ways to confront a difficult business climate, and giving the EBM a try. Morrow was straight with me about how hard it is to market a self-published book, given current distribution models. My first idea right out was to start a blog about the process. A confession: one reason I did this was to commit myself—if I went public with the fact I was launching my book this way I couldn't so easily turn back. But once I got involved, I didn't want to.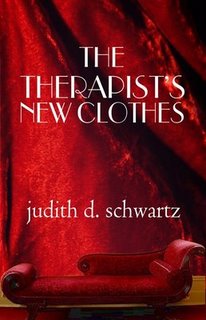 The EBM drastically streamlines what is usually a long, drawn-out process. Sending files from computer to computer messed up the margins a bit, but this was easily fixed during proofing. Within but a few moments, I chose a font (Centaur), the book's actual size (6 X 9), and the price ($14.95). For the cover, I asked a local artist and she agreed to do it for barter (I'm paying her in editorial services). She superimposed a velvet sofa (this is a book about psychotherapy—there had to be a chaise!) upon a fabric image from a photo my husband took. The cover is a bold, rich red with white type. I learned that Photoshop is nothing short of miraculous. If I had gone to the Northshire with a cover and fully copy-edited manuscript (of course I ended up making a few changes) I could have had finished books within days.
In the meantime, in my journalism life, I had been writing about building local economies and recognized that using the EBM was essentially creating a form of local publishing: the book is written, designed, printed, and distributed locally; nothing is outsourced to New York. This means that 1) money stays in the community, and 2) this helps create local production capacity, which means less dependence on urban centers. As someone who lives in a small town, I appreciate that every dollar that stays local matters. Then there's the environmental factor: typically every book you buy travels from printer to warehouse to the bookstore or wholesaler—even if the author lives down the road. Books that aren't sold are sent back and pulped. With the Espresso Book Machine, there's no paper waste or unnecessary transport. So, although I didn't realize this at the outset, it turned out that this form of publishing was in line with my values.
There are frustrations. Marketingwise, I have to do everything myself. I have to explain the book's provenance as I wouldn't need to with a traditional publisher. Distribution is limited, though I'm expecting to broaden this out through Ingram's Lightning Source POD program, (the Espresso Book Machine itself falls within the Lightning Source umbrella). But the book is slowly finding readers and, thanks to great reader responses, traditional media outlets are showing interest. And I'm finding out that despite my initial jitters, I'm enjoying being a pioneer.