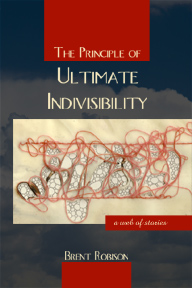 There is nothing that separates this book from a book on a small independent press. Nothing. The cover is exquisite, the writing is crisp, well-edited, and moving. It's not perfect, but none of my criticisms have anything to do with the professionalism of the book. When this book was sent to me, I wrote to the author that the cover evoked to me string theory and quantum foam – especially when coupled with such a lofty title as The Principle of Ultimate Indivisibilty. I was imagining a book that did for fractals what William Vollmann's novel, The Atlas, did for palindromes. How could this be done? I don't have an answer for that, but I was expecting – and frankly hoping for – something with more of a metaphysical bent. And that's not entirely the case.
Instead, this is a book of short stories about the smaller moments that comprise people's lives – nothing so lofty as the nature of the universe, or, actually, indivisibility, which is defined as:
1. Incapable of undergoing division.
2. Mathematics Incapable of being divided without a remainder.
A blurb on the back says that the stories are reminiscent of Winesburg, Ohio, and this does seem dead on – to the point where the story "Phoenix Egg" may just be a nod to Sherwood Anderson's collection The Triumph of the Egg. And perhaps this is exactly the point – it's the smaller, more subtle stories that make up our daily lives that do, in fact, comprise the stuff of BIG themes. So the title and its cover are entirely appropriate, even if the title might imply a nearly science fictional type of collection.  Put another way, this book is about universal issues – not in the sense of the overall universe, but of all the things we share together.  The "web of stories" illustrates that we're all connected by similar experiences.  In that sense, perhaps the book is sort of fractal in nature – each one of use contains elements of everyone else.
What makes this book most effective is not this theme, but the strength of the writing.  The book is comprised of stories that have appeared elsewhere on the web and in print and it shows – a lot of time has been taken with these stories.  The writing throughout is incredibly well-crafted. Here's a peek, from "Signs":
Arnie sat in the darkness as minutes, then hours, crept past at a glacial pace that seemed almost spiteful. The indistinct shadows of trees cast by a waning moon drifted in imperceptible inches across the dim lawn. An old ache began its slow bloom in his lower back. This was a bad idea, he knew it.
The major criticism is that some of the stories end too cleanly. My favorite piece in the collection, "Angry at the Weather," follows a divorced man with anger problems, estranged from his daughter. It's one of the darkest in the collection, revealing real inner pain and alienation of the main character, but then ends, "…for that eternal fraction of a second, he no longer felt angry at the weather, at the sky, at the season, at his life." Granted, it's a "fraction of a second," but it seems to signify: don't worry too much about this guy, he'll be OK, which seems a shade too easy in a collection of realistic fiction. Everybody is, in fact, not OK, and when the story ends like this, it seems almost unfaithful to the rest of the story.
These types of endings are more frequent than necessary – a sort of hopeful epiphany that seems very nearly tacked on, as if to leave you with a good feeling and not too much pathos. But well-expressed pathos can be hopeful in itself – the joy in something being well-expressed, and given there's so much good writing within this collection, that's more than enough to satisfy that need without this type of abrupt bit of good news to end a story. Ultimately, the endings don't always come off as real as the rest of the story.  Even if these epiphanies are part of the book's "web" it's not always effective.
That said, the collection is very strong throughout. Who cannot like a story that begins (from "Baptism"):
When Willy first came to us, I hated him. Now that he's dead, I feel like killing somebody.
Overall, it's a collection of very strong writing – thoughtful, full of vivid imagery, sorrowful at times, but never self-pitying. The Lost Symbol it is not, but it's subtle and moving in a way that Dan Brown dreams of being.
Visit Bliss Plot Press.
Read Brent Robison's blog.