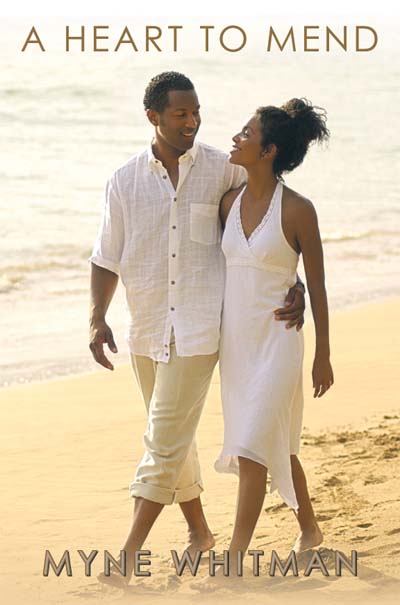 What is A Heart to Mend all about?
It is a romantic suspense novel. It has been proven that the best romantic novels are the ones that go beyond the genre. What does this mean? It means that while the main narrative of a romance novel may be the story of love between the main characters, there has to be much more. Extra plot layers, a strong sense of place, three-dimensional antagonists, secondary characters with their own stories—all these are important. As are a hero and heroine whose worlds are large and who have other interests beyond just their love for each other. This story is told from the point of view of both major characters. This story is set in Lagos, Nigeria at a time of turmoil in the country's financial environment as several institutions were overhauled.
In the book, Gladys moves to live with an estranged aunt in Lagos, Nigeria and to continue her search for a job. Before long she lands the job of her dreams with the foremost oil company in the country and makes several new friends. She also gradually resolves the mystery of why her aunt previously cut all ties with their family. But the best part about her new life is meeting Edward Bestman.
Edward is good-looking, super rich but emotionally scarred. Gladys gets him to see that she loves him and that together they can surmount all their differences. However, when they return from a romantic trip abroad, they find that some unnamed people are about to take over his business empire. Edward's past has come back to haunt both of them as Gladys is enmeshed in the loss of several million shares of the Bestman Group. Who are the people close to Edward who want to betray him and destroy his happiness with Gladys? Will Edward overcome his fear of love and commitment and put his trust in Gladys?
As the story progresses, they are able to surmount this and all other obstacles before them including differing views on premarital sex, social class and contrary advice from friends. Gladys and Edward decide to trust their hearts with each other and begin to prepare for their wedding. This main story line runs through the subplot of growing friendships, family reunions, the Nigerian stock market, business intrigues and a vendetta.
The novel details how we can be affected by events from our past and how it may limit our opportunities in the present especially in the area of love and relationships. Gladys obsesses over the divide between her and Edward, while he had barricaded his heart and was not letting anyone in, man or woman. The lesson is that none of us is perfect but we should be able to keep our heart open for that (sometimes one) person who has enough masking tape to cover our imperfections and make an ideal couple.
For the month of July, the ebook is available for download as Kindle, PDF or ePub from Feedbooks. Click this link to go directly to the page.
Read Excerpt below…
Her Lagos adventure had started with a hand delivered letter from her father's estranged sister last December. Aunt Isioma said she would be in the village for Christmas and wanted forgiveness for the damaged relationship between both families. She also wrote that Gladys could return to Lagos with her if her mother agreed. Gladys had been as surprised as her mother and brothers at the request, but also very excited. At twenty-six, and after one year steeped away in the far north of the country for national service, she was ready to move to the next step. Her mother disagreed, but went ahead to visit the village for the New Year, while Gladys and her brothers remained in the town for the holidays.

"Gladys," her mother called a few hours after her return to Enugu a week later. "I've had a discussion with Isioma. She was still in Onicha-olona when I got there."

They were together in the bedroom they both shared in their small flat. A fan whirred overhead, shifting threadbare curtains drawn across the louvered windows.

"She told me she is now a widow."

"Oh no! When did her husband die?" This was not contained in the letter her aunt had sent.

"He passed away in September last year. She said he wanted a quiet burial so she didn't bother to let anyone know. I also don't know how those Yorubas do their tradition. Anyway, everyone was agog; it's been almost twenty years since she was last seen in the village. I couldn't help but feel sympathetic for her; I know how lonely widowhood can make one."

Gladys watched her mother clear her throat and fiddle with her neckline. "We spoke privately and she apologized again saying she wants us to put the past years behind us."

"What's your own opinion Mama?"

"I told her I didn't appreciate how she thought she could come back so easily without any explanation for what happened." Gladys bent her head as her mother continued, "Didn't I tell you I sent Isioma several letters when your father was sick and she never replied? It hurt me so badly when she didn't show up for the funeral and I thought I would never forgive her."

Gladys squeezed her mother's hands.

"When I married your father, I was happy he had a sister my age. She was already married and lived in Lagos but I hoped we would become like sisters. That never happened."

Gladys knew it was so painful for her mother because she lost most of her own relatives when her village fell during the Nigeria-Biafra civil war.
"Anyway, I decided to let bygones be and told her I had forgiven her. But I have my reservations; I'm not comfortable with her request for you to come and live with her in Lagos."

"I know this Mama. But I still have to go there for the Zenon Oil test." She'd received the invitation letter a couple of weeks ago, and it had since become the fulcrum of her attempts to get her mother to allow her to move permanently to Lagos.

"Yes, and that's the reason I told Isioma that I would accept her request."

"Oh, thank you Mama…" Her jump of joy was halted by her mother's next words.

"I could say we'll find a temporary place for you in Lagos, but I have to be realistic and think of your future too. If you succeed at the test, there'll be interviews, and I don't want you to have to travel back and forth or worry where to live. You all do very well in your studies, and I thank God for that, but it has not been easy. I still have to see your brothers through school."

"I think I'll pass, that's why I am so excited. Mama, thank you so much."

Her mother looked at her and smiled with pride. "I know you will, even if not with Zenon. The truth is you stand a better chance of getting a job there in Lagos."

Gladys nodded and her mother hugged her close.

"You understand that if not for God and our tight finances, you wouldn't be going to stay at Isioma's place in Lagos?"

"I know Mama, but things are getting better. You said so yourself."
"Yes I did…"

As her mother spoke, the electricity was cut off. They both laughed because this was the second time in as many hours. Gladys opened the windows and turned up the kerosene lamp burning low in the corner. As she placed it on a table, shadows jumped across the faded walls. She sat back beside her mother on the low bed. It had a double mattress, one of which she threw on the floor when it was time to sleep.

Her mother continued speaking. "It may not be easy living with your aunt though. We don't have much, but this is your home and you have the run of it. It could be a different situation in Lagos. Isioma is a very wealthy woman and we're the poor relatives. It is possible she expects you to work around the place as some sort of house help."

"I understand and won't mind if that is the case. I am not afraid of hard work."

"I know Ada'm. You're my first and only daughter and I did my best to train you well. No matter what happens, please, be a good ambassador for me."

"I will Mama, and trust me, it will all come out right."

"I pray so. Your aunt might be amongst the rich people of this world, but I have taught you that true wealth is friendship with God. For reasons known best to her, Isioma kept away from us for over fifteen years. Do not give her grounds now to complain or call me bad names. Any time you want to come home, remember we're here with open arms."

Tears sprang to her eyes and she hugged her mother tight. "Thank you Mama."

"It will be well Ada'm." Her mother called her the pet name again, smoothing her hair.

Gladys travelled by the cheaper night bus two weeks later and arrived before dawn. She knew Lagos had about fifteen million people – over five times the size of Enugu – but it was an eye-opener seeing it herself. As she wandered out of the Peace Mass Transit bus station, the motor park just ahead was a noisy chaos with hundreds of battered yellow buses parked at random. The toots of vehicle horns, mobile phones, and loud shouts assaulted her ears. It was her first time in the crowded city, and she hoped to meet someone who would advise her on the best route to Victoria Island. Her wealthy aunt was not much help as she never used public transport.

She lugged her wheeled box down the road; there was no sense in dragging the flimsy rollers along the potholed sidewalk. The congestion was evident with people everywhere even though it was not yet fully light. Yoruba language bombarded her, from most of the people who thronged the streets and from the boys yelling through the open doors of moving yellow painted buses. Afro beat music blared from loudspeakers on top of parked vehicles.

She tuned out the noise and listened to the conductors barking out route and destinations to determine which of them was going to the area she wanted. She soon found a smaller danfo bus, clambered in and plopped down on the empty space on the middle bench. She wasn't surprised when the conductor said there was no timetable and the vehicle would only move when full. It was the same everywhere she had travelled. Gladys settled in, expecting they wouldn't wait too long to fill up. Passengers thronged the park and this bus was not one of the larger models. That would have meant a longer, sweatier delay on this humid morning.

The park also served as a market and narrow shops with colorful banners lined the edges. The air was thick with body odors, dust, and strange food smells. Gladys absorbed it; amused as she watched some of the other passengers buy various items from the hard discomfort of their seats. Hawkers came up to the bus to offer underpants, watches, popcorn, sausage rolls in worn wraps, and plastic bags of water. Gladys bought the water, not troubled about its purity, and sucked the bag dry. She tossed it out of the window as the bus wheezed and shuddered its way out into the traffic.

A mother with a child on each knee blocked her view of the road ahead. Cramped next to the woman's wide hips was the brawny conductor. Gladys contented herself with looking out through the smudged windows on both sides of the rickety yellow bus. It took them over an hour to hurdle the Lagos lagoon via the Third Mainland Bridge. As the sun started its ascent over the sometimes inching, sometimes stationary bus, Gladys was riveted by the sights and sounds of her new city. She marveled at the contradictory panoramas that met her gaze.

Men, women and children paddled canoes on the murky black water beneath; oblivious to the stench Gladys could smell from the top of the bridge. The large numbers of wooden houses balanced on stilts above the lagoon had rusty tin roofs wreathed in coils of smoke from open cooking fires. A sawmill further down burnt sawdust and belched up even more clouds of smog. All this mixed with the exhaust plumes from the traffic to create a dense haze that tickled her nostrils. The late January sun outlined the façade of the Lagos Island skyline that towered in the distance. The many high-rise buildings may have been a different color in an earlier life, but all she saw now were structures blackened by decades in the fog.