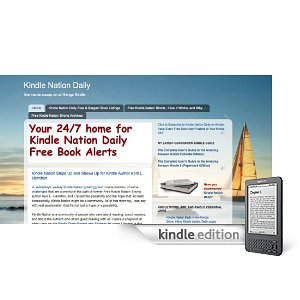 This past Saturday, I was a sponsored book on Kindle Nation – something I wholeheartedly recommend.  It costs $69 for one-day sponsorship, with other options:
Option 2 – Free Kindle Nation Short Excerpt Email Sponsorship – 1 Day:
Free Kindle Nation Shorts excerpt and sponsorship to be emailed to 5,500 opt-in free email subscribers and pushed directly via Whispernet to over 6,000 Kindles owned by paid subscribers. It's your choice whether to sponsor another author's Free Kindle Nation Short or your own, but the most powerful option is to sponsor your own.
Option 3 – Free Book Alert Sponsorship – Weekly Newsletter Email Blast:
Weekly Kindle Nation newsletter email blast sponsorship emailed each Tuesday to 5,500 opt-in free email subscribers. This is one of our most powerful sponsorship options because the free opt-in newsletter with live web links to your book achieves a very high level of engagement and response. This option tends to be sold out 6-8 weeks in advance, so schedule early if possible!
Option 4 – Gold Sponsorship:
This is a powerful medley of sponsorships that includes the Free Book Alert Sponsorship – 1 Day, the Free Kindle Nation Short Excerpt Email Sponsorship – 1 Day, and the Free Book Alert Sponsorship – Weekly Newsletter Email Blast. As a general rule we lead off with the Free Kindle Nation Short Excerpt Email Sponsorship and follow it up with the Free Book Alert Sponsorship – 1 Day and the Free Book Alert Sponsorship – Weekly Newsletter Email Blast. Since the Weekly Newsletter Email Blast option tends to be sold out 10-12 weeks in advance, it is important to plan ahead for the Gold Sponsorship.
See the site for complete terms.
I only have experience with the one-day sponsorship.  I had made that money back by 10 am – $2 a book with 70% commission on a $2.99 book for roughly 35 books.  My Kindle rank hit its peak (as far as I know) at 611. I was only semi-obsessively checking it every five minutes.
But then later in the day something happened.  Amazon had removed the buy button from my book.  After a series of emails I got this response from Amazon:
Dear Mr. Baum,

We sincerely apologize for this.   We think we know the root cause and need your assistance.  Your listed the price at $2.99 on DTP but it is priced at $0.89 at KOBO. Please see the link below:

Link: http://www.kobobooks.com/ebook/The-American-Book-Of-The/book-M-qNE0dHqU-1TPe7tW67oA/page1.html

We have logic that temporarily suppresses the buy box to ensure that the digital list price of a DTP book does not significantly exceed the lowest suggested retail price of any digital or physical edition of that book on other stores.

Can you please adjust the price of the book on Kobo to match the DTP price of $2.99.   You may also get a note from our CS team regarding this.
If you're on Smashwords, you may be familiar with their terms for premium distribution.  My book is set at "You Set the Price" which means the default price at retailers is supposed to be $4.95, as it is at Apple, B&N, etc.  But Kobo chose to usurp this price and offer their own.  Because there's no strict price on Smashwords, controlling the price on Kobo is out of my control. (update: see 4th update below)
The problem with this is that $.89 is below what a writer can charge for the Kindle – which is 99 cents – so conceivably other writers could see their books getting delisted for the exact same reason. Kobo should have realized this when they set my book at that particular price.  I should be able to keep my book at "You Set the Price" and not change it to something above $2.99 to satisfy both Kobo and Amazon.
Amazon agreed to re-instate my book with the price of $1.00.  This seems a strange policy overall, as on a day when my book was selling well, Amazon chose to both remove the buy button and then lower the price.  It's like a very, very small scale version of the Macmillan flap.  In effort to keep to dubious policies, Amazon costs themselves money.  At the same time, this is Kobo's glitch with Amazon just reacting poorly.
The moral: shit happens.  This isn't a reason to not go for a Kindle Nation sponsorship or distribute with Smashwords, just be aware of this issue if you do either.
Update: Kobo responds below stating "What may have appeared as a malicious price war with competitors on our part was merely the result of a bad metadata update we received from Smashwords providing a list price on your book of $0.99 – which was then discounted automatically to a selling price of $0.89."
I can corroborate this because the price of my book on Diesel, which was recently distributed, is the same. I don't want to discourage anyone from using Smashwords, because it's awesome, but in the infant world of ebooks, mistakes can happen.
Second update: My book has shot up to #131 on the Kindle today. The book got an extra boost because of this post on Kindle Nation, but this shows what could've happened if Amazon hadn't removed the buy button on Saturday.  Very excited to be in between these two writers: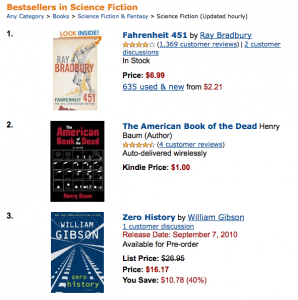 Third update: Just received a brief call from an Amazon representative explaining basically what was already expressed in the email – that Amazon automatically delists books if the price is higher than it is at any other retail outlet.  So Amazon has a spider checking all the major ebook stores.  They set it at a dollar because they saw the amount of traffic coming in from Kindle Nation – after the Kindle Nation rep contacted them directly.  They've got a pretty serious relationship going, as this was remedied very quickly.
Interesting – it's a pretty personal touch from a corporate behemoth.  My book's making them money, but not that much money.  This post, though, might have a bigger impact.  A lot of reputation management going around.
Fourth update (!): It turns out this was my mistake (suprise!).  Mark Coker mentions below that I had set my price to override the default at 99 cents.  Honestly, I don't remember doing this, but it makes sense, as right now I'm more interested in being read by as many people as possible than turning a profit.  So: this isn't Smashwords fault.
But it does point out that if you do opt in for premium distribution you should never set your book at 99 cents because this will undercut Amazon.  Set it at least $2.00.  If you want the 70% royalty for a $2.99 book, you should set it at Smashwords at around $4.00 to be safe.