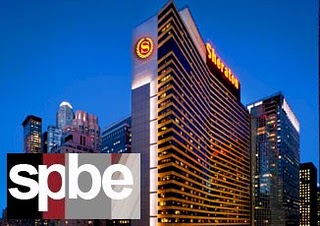 Michael N. Marcus has a great field report from the Self-Publishing Book Expo this past weekend in NYC.
Observations, in no particular order:

There were lots of people there, right from the opening at 10 a.m. It was obvious that Expo impresarios Diane Mancher and Karen Mender were correct in assessing the need for such an event, and they made the right decision in making the exhibit floor a freebie for all attendees. Last year nothing was free. The panel sessions I visited were well-attended, with an alert audience asking important questions and getting good answers from knowledgeable and experienced experts.
I was surprised and dismayed at the ignorance demonstrated by some self-publishing newbies, and even by some of the exhibitors. It seemed strange that there had to be a session called "Why a professional editor can be your best friend." People in the audience (and the authors of most of the books I featured in last week's BAD BOOK WEEK) just didn't realize that professional editing is vital–not optional. I've said this before and I'll say it again: "If you can't afford to hire a professional  editor, you can't afford to self-publish."
I was surprised to see the large number of companies offering marketing and publicity services. There is definitely a need for them, but I don't know how an author can decide among them. I spent some time with Beth Werner, who operates Book Marketing Boot Camp, a series of one-to-one sessions to help you create a marketing plan. Beth believes that advertising fiction can be profitable, which surprised me. Beth seems to know what what she's doing and her service is definitely worth considering.
I disagree with his take on PW Select, but otherwise a great read. Read on.