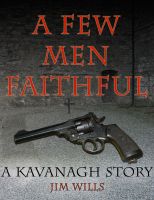 I'm new here, but not to Indie publishing.  As an introduction, answers to the questions on this site follow.
I worked as a developmental trade editor, professional business writer for more than twenty years; got me nowhere in fiction land, so I went Indie.
Started with Amazon/Create Space, then Smashwords; so far, so good.  Smashwords is very impressive.
I've used every marketing venue out there, including radio interviews, book readings, local print advertising, library services.  Working on a trailer.
I was compelled to write A Few Men Faithful: A Kavanagh Story I by my lifelong interest in Irish history, mythology, politics and literature.  Ditto the other two in the series, Philly MC and Shooter in a Plague Year.
All three are traditional historical fiction; suits my research training and personality.
I have many, many writing influences, but in this case I'd have to say Roddy Doyle, James Joyce, Frank McCourt, Jane Austen.
Like Dickens and Thackeray, I treat writing as a 9-5 job.  Set out blocks of time and don't vary the routine, even if you draw a blank.  You can always revise.
I would definitely self-publish again; the fourth in the series is due for summer release on Amazon and Smashwords.
Advice to self-published authors?  Hire a freelance editor and pay attention.  As an editor myself, I can't recommend this more highly, and I certainly can't edit my own work beyond a certain point.  You set the rules: "The style is the style," for example.  For plot development and characterization, a freelancer can be very, very helpful.
You can find out about the books under Jim Wills on Amazon.com or at Smashwords:  http://www.smashwords.com/profile/view/Kavanagh47 .
I'm always looking for advice from more experienced Indie authors and will certainly pass on what I've learned.  If April is the cruelest month, then marketing is the hardest job ever.
Jim