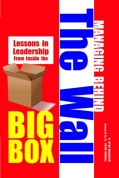 Recently, I published my first book, Managing Behind the Wall: Lessons in Leadership from Inside the Big Box. It's a book that talks about some of the lessons I learned inside big box retail as I spent nearly five years on the front line of the largest retailer in the world.
I chose to self-publish because I wanted my voice to be able to get out sooner rather than later. Traditional publishing is nice and I would jump for the opportunity, but not wait for it.  Usually, unless you're famous, already rich, connected, or already established, a publishing deal is not going to fall in your lap.  But, as a self-publisher I don't focus on that; I focus on the work.
So here's my brief interview about my journey in self-publishing.
1. How did you come to self-publish? Did you try to get published traditionally?
I had always wanted to write, but didn't know anything about the business.  It was a little intimidating.  Beyond the self-doubt of the work, there are the unknowns of getting published.  One of my friends mentors had self-published his first two books and I arranged a lunch to talk about the prospects of my writing.
2. What self-publishing service did you use? Happy with the service?
I used CreateSpace.com.  I'm very happy with the service.  It's quick and easy.  Templates are available for the inner-layout, as well as a cover creator.  I recommend designing your own cover in another program or seeking help from a friend, as the cover creator through CreateSpace is currently limited.  I designed my own with PrintShop for Mac and imported it into BookCover Pro.  I don't recommend BookCover Pro as a cover program.  It is a cheap solution, but limited (cannot zoom in, no guideline, does not export perfectly).  Once I bought PrintShop I was able to combine the strengths of both programs to get a great looking cover.  I've also seen good things from the Lulu.com website.
3. What avenues have you taken to market the book? Have you gotten reviews, interviews, TV, print media coverage?
I have only had the book out for one month and haven't really pressed the marketing.  I did get an editorial review in the paper, but no interviews (but I wasn't looking for any).  My goals are not fame and fortune, rather to share my ideas and hopefully inspire others to change the world.
4. What drove you to write this particular book?
I spent nearly five years on the front line of the largest retailer in the world as a manager.  I saw the good, the bad, and the horrible and want to offer a perspective of how it could be.  Many associates sacrifice themselves without a champion to speak for them.  My writing is a part of that voice.
5. Is the book in any one particular genre? Is it a genre that's familiar to you?
Business / Motivation / Inspiration.  I have read many books over the years on the subject and now that I write on motivation I try to continually read more books on the subject.
6. Who are your greatest writing influences?
While writing this first book I purposefully tried to not read others work.  I wanted it to be me unfiltered.  I'm half way through writing my second book, A Few Simple Things, and some of my influential authors include: Seth Godin, Daniel Pink, Geoffrey Colvin, Malcolm Gladwell, and of course John Maxwell.
7. What's your writing regimen? Any tips for keeping focused?
Everyone is different and I'm using a different method this time than the last.  I recommend a daily (or 4-5 days a week) word goal.  My goal during the first book was 1,000 words a day.  Too many.  I now write about 500-800 words on a regular basis (3-4 days a week).  I read an interesting quote about writing regimens.  "I write when I'm inspired and I insure that I'm inspired every morning at nine o'clock."
8. Would you self-publish again?
Yes and I am.  A Few Simple Things will be out and on Amazon.com in the fall.  You can learn more about it and stay connected at www.RYAN101.com (or not).
9. Any final words of advice for those looking to self-publish?
Just jump.  Don't wait to be chosen.  Choose yourself.  You have everything you need online to make it happen, affordably.  Printing is not an issue.  My first book was a learning experience and like everything else, the more you do it the better you get.  Go for it!