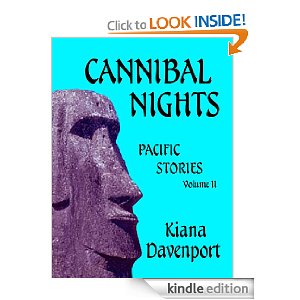 Interesting tidbit in this recent New York Times article about how Amazon is ripping apart the publishing industry.
For a sense of how rattled publishers are by Amazon's foray into their business, consider the case of Kiana Davenport, a Hawaiian writer whose career abruptly derailed last month.

In 2010 Ms. Davenport signed with Riverhead Books, a division of Penguin, for "The Chinese Soldier's Daughter," a Civil War love story. She received a $20,000 advance for the book, which was supposed to come out next summer.

If writers have one message drilled into them these days, it is this: hustle yourself. So Ms. Davenport took off the shelf several award-winning short stories she had written 20 years ago and packaged them in an e-book, "Cannibal Nights," available on Amazon.

When Penguin found out, it went "ballistic," Ms. Davenport wrote on her blog, accusing her of breaking her contractual promise to avoid competing with it. It wanted "Cannibal Nights" removed from sale and all mentions of it deleted from the Internet.

Ms. Davenport refused, so Penguin canceled her novel and is suing her to recover the advance.
This is crazy.  One of the things traditional publishers have required more and more is that authors must create a platform.  Now a writer tries to create a name for herself and gets sued for it.  It's somewhat understandable if the publisher wanted to see some of this money – so this is something to keep an eye on in contracts if you're going hybrid: both self-publishing your backlist via Kindle and releasing a new book traditionally.  If traditional publishers are not amenable to a hybrid arrangement, chances are writers will jump ship if they're not even allowed to publish all their work – or publish it on a timetable stretched out over many years, rather than being able to profit off a book and build a platform immediately.
From Kiana Davenport's blog:
In January, 2010,  I signed a contract with one of the Big 6 publishers in New York for my next novel.  I understood then that I,  like every writer in the business, was being coerced into giving up more than 75% of the profits from electronic sales of that novel, for the life of the novel.   But I was debt-ridden and needed upfront money that an advance would provide. The book was scheduled for hardback publication in August, 2012,  and paperback publication  a year later.  Recently that publisher discovered I had self-published two of my story collections as electronic books.  To coin the Fanboys,  they went ballistic.  The editor shouted at me repeatedly  on the phone.  I was accused of breaching my contract (which I did not) but worse, of 'blatantly betraying them with Amazon,' their biggest and most intimidating  competitor.  I was not trustworthy.  I was sleeping with the enemy….

So, here  is what the  publisher demanded.  That I immediately and totally delete CANNIBAL NIGHTS from Amazon, iNook, iPad, and all other e-platforms.  Plus,  that I delete all Google hits mentioning me and CANNIBAL NIGHTS.  Currently,  that's about 600,000 hits. (How does one even do that?)  Plus that I guarantee in writing I would not self-publish another ebook of any of my backlog of works until my novel with them was published in hardback and paperback.  In other words they were demanding that I agree to be muzzled for the next two years, to sit silent and impotent as a writer,  in a state of  acquiescence and, consequently,  utter self-loathing.

The vice president and  publisher of that house called my agent, offering extra little sweetmeats if I would just capitulate and 'adopt the right spirit going forward.'  This somewhat sinister and semi-benevolent attempt at  mind-control fascinated me.  It became  crystal-clear to me  that the issue wasn't a supposed  'breach of contract,'  on my part, but the publisher's fear and loathing of  the  profoundly threatening Goliath,  Amazon.  Since CANNIBAL NIGHTS in no way 'resembles' or would 'injure' sales  of the book I had sold them (an entirely different subject matter) I was not in breach of my contract.  I stood firm, and refused to capitulate.

Last week,  I received from their lawyers an official letter terminating my contract with them, "…for permitting Amazon to publish CANNIBAL NIGHTS, etc…." and demanding back the $20,000 they had paid me  as part of their advance.  Until then, this publishing giant is holding my novel as hostage,  a work that took me five years to write.  My agent assures me I am now an 'anathema' to them.

I  sit back and  view  this fiasco in two ways.  CANNIBAL NIGHTS is my best, best writing.  Perhaps  it's worth $20,000 to finally have it published and presented to the world.  For that, I thank Amazon. Or,  perhaps  it's worth $20,000 for a writer to discover who she's really in bed with.  Sleeping with the enemy?  Perhaps.  But now I know who the enemy is.

This is not a tale of woe.  It's a cautionary tale,  a warning to other writers.
Publishers are panicking and it says a lot about the freedom offered by traditional publishing: not just the types of content, but publishing at all. This is precedent-setting if you're on the fence about what to do with your backlist or how to structure a contract.