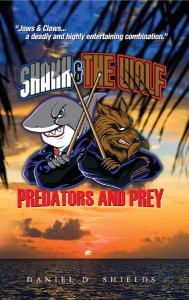 I would classify this as a sci-fi thriller.  The science fiction genre allows us to go anywhere we want and create anything we can imagine.  Mr. Shields has successfully created an alternative earth where animals have been genetically altered to be human while retaining, to various degrees, their animal appearances and nature.  Mr. Shields works this throughout the novel, giving them very human appearance and attributes, but never too much!
The story follows Shark and his friends.  Shark is a completely believable character.  An expert billiard player (read that great-white pool shark) who embarks on an adventure to help his main squeeze, Vixen (a fox, get it?) and her dad Gill (a dolphin – this family group is a bit of a story in itself) save the family business – a billiards bar.  He embarks on this journey with his best and most faithful friend Dog Z Boy… yup, you guessed it, a dog.
These are very much genetically altered animals that have human form, but retain to some extent their animal appearance.  Shark has the head and teeth of a Great White, but talks, dresses in tux or jeans, and retains his predatory nature.  The rest of the animals are the same to varying degrees.  And some of the philosophical discussions are interesting – from the viewpoint of animals who are now almost, but not quite, human.
The story takes us on a treasure hunt.  But not before the disturbing opening story set up and a superb pool match between the lead character and the main antagonist.  It appears Mr. Shields is very much into pool.  Having previously written a book on pool and having a business that makes an uber pool stick (sorry, cue!) it would be natural for this story to have billiards as a working element.  What better place to meet knock-out girls and ultra baddies than in bars with a pool tables, where you can measure up the worth of your opponent over a friendly but straight-up business game.
The story antagonists are Mr. Shaw, a human big game hunter, showman and billionaire who is in pursuit of his biggest money making project yet: a mega Vegas show that will pit animal against animal in an ultimate death match called "Predators and Prey."  He has other motives as well; very personal and all involving Shark.  Mr. Shaw is assisted by a suitably nasty and viciously plotting hyena in a fedora named Old Jack.  He is a hyena that is out to play a deadly game of pool with Shark!  Old Jack's bodyguard is The Wolf, who is a former Ranger, as is Shark.  Loyalties will fall where they may!  Mr. Shields expertly weaves in backgrounds for his characters, so we fully relate to the heroes and the villains.  There is a clear reason to cheer on our champions and boo/hiss at the heavies.
And we have some wonderful distractions, like Frenchie the Poodle and Cahira, a lady panther, as the additional delicious romantic interests. Extras include Stripes the Zebra and Woodsy, a young huge insect.  There are other animal members in the cast and each one is just as fascinating.  Even the locations set the story; Gill's Bar and Grill and Tiki Wiki Billiards and Vegas – it almost inspires a "film noir" feeling to the book.
Mr. Shields has set up the world into zones where these hybrid animals are either free or can be legally captured and enslaved.  The story then leads us from the Florida Keys, to Fiji to South America to Vegas.  We then wander through a story that includes treasure hunting and joyful reunions, love interests and romance, kidnaping and slave auctions, breeding mills and great escapes. Then there are the mega final scenes at the Grand Vegas Show, which you will have to read the book to find out what happens!
As I mentioned, the story plots are well interwoven and purposefully developed.  There are no slips in action; we have moments that will keep you flipping the pages to see what happens next. I will tell you, I didn't want to put this one down once I picked it up.  Yes, this is a print book, so e-reader is not a necessity, but do know that there is an electronic version of this book available from Kindle for an amazingly low price.
This is an absolutely delightful work; so original, the characters are unique and well developed, the plot is exceptional and the concept not only innovative but brilliantly done.  A 5 star read all the way through.  I am very impressed with this first fiction offering from Mr. Shields and I am hoping this turns into more adventures for Shark and The Wolf!
Links