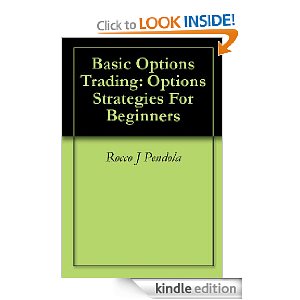 Basic Options Trading: Options Strategies For Beginners by Rocco Pendola is not a get rich quick read.  If you are looking for a book to offer you outrageous guarantees about fast cash and then retiring along the Mediterranean this is not the book for you.  However, if you are looking for a sensible, down-to-earth guide about the basic principles of options investing then Pendola's eBook is a good start.    The writer focuses on defining the concept of basic options, not giving advice as to how to make a quick buck.  He writes, "I want you to be able to use this book as a logically-flowing roadmap to understanding the very basics about options and turning that knowledge into a workable and relatively safe options strategy. Think of this as more of a workbook or a progression of concepts, thoughts and ideas, rather than a traditional text."
Pendola's approach to what many people find complicated is to breakdown explanations into simple and manageable illustrations.  If the thought of trying to figure out the square root of 9 freaks you out, don't worry, most of his examples involve basic, simple math.  Put away your calculator.  His overarching goal is to make understanding options uncomplicated.  Have you ever wanted to know the terms: buy to open, sell to close, sell to open, buy to close, out-of-the-money, in-the-money, and at-the-money.  If you answered yes, this is the book for you.
The book is divided into five sections. Each section builds upon the information you learned in the previous.  The first section provides the reader definitions and concepts of basic options.  Complicated options are not discussed.  Remember, this book is for beginners, those somewhat familiar with the terms and who want to learn more to build up their comfort level.  Second, he explores his belief that options should be considered as an investment.   He writes, "It's little more than a misnomer that options have no place in the portfolios of new, ardent buy-and-hold or even conservative investors. In fact, I argue that you hold yourself back by not using options in a variety of, albeit, relatively basic ways."  The following three sections discuss covered calls, long calls and puts, and cash-secured puts respectively.
As I read this book, one thing that I found comforting was that the author frequently warns his readers not to do too much.  In today's world, many people are leery with claims that risk will pay out as long as you have a lot of money in the game.  He feels the opposite.  "Simply put, many humans have an aversion to the notion of doing more with less, while failing to acknowledge the potential pitfalls of trying to do more with more."  Pendola is cognizant to warn readers that caution and knowledge will get you results.  He also advises to only risk an amount of money in which you can afford to lose.  He believes the best type of investor, is a disciplined one who is informed, patient, and knows his or her limits –"(m)ost investors, namely relatively small ones, should never venture beyond the most basic options strategies."
Rocco Pendola is a contributor to the website Seeking Alpha.  If you would like to sample his writing before buying this eBook, I recommend that you check out his articles.  I give this book 4 out of 5 stars.  It is a simple, yet informative read.
Links