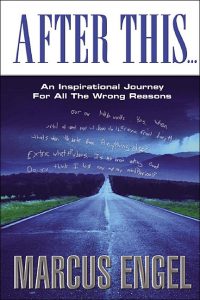 Marcus Engel was only 18 years old when, as a well-liked sports student on a night out, the car he was in collided broadside with a drunk driver, flinging him from the vehicle and causing eye injuries so severe he lost his sight completely. This book is his autobiographical work describing the journey to accept blindness at the peak of his youth, and the tremendous lessons Marcus learns as he struggles with the inevitable truth: he will now live without sight for the rest of his life.
From the outset, it is clear Marcus is a talented storyteller. He is a marvelous writer with a flair for the detail that brings the reader into his world, even if that world is without sight; given the reader is presented with Marcus's memories with only his four senses; the most incredible aspect of this book is his sensitivity to each sound and feeling, and how he conveys these to the reader, offering an unusual palette of texture to take in. An engaging character, he describes each obstacle he must overcome as he strives towards his goal: to get back to his old life at college with his friends before they all graduate.  I found myself suddenly "seeing" how Marcus must "see" his world every day – without knowing what people look like but guessing through his descriptions of their breath, direction of voice that gives height and age, and the way he knows where he is by the tap of his cane on an echoing surface or the sound of a busy road. It was a really different way of imagining a book.
Marcus has a series of nightmarish scenarios to overcome, but the most enduring is the climax to the book: The Drop. Marcus is at a rehab school, learning blind orientation skills, a course that is 18 months long, but Marcus is keen to leave for college and his old life in just 5.  The administrator, a woman Marcus is not fond of, makes a deal with him: he can leave if he completes the graduation, called The Drop. Marcus will be left in the middle of the city with nothing but his cane. He will have to find his own way home.
Also, sweet is the first time he meets his Seeing Eye dog, Dasher, who quickly becomes his "cute girl magnet". There is a fascinating look into how guide dogs are trained, and how they are matched to each non-sighted person.
A heart-warming story, frightening at times as he braves a situation like no other, enduring operations and procedures you can only pray you never have to experience, the reader will be cheering Marcus on as he passes through each stage with the kind of hope and energy that comes with a warm and open personality like his. Of course, he struggles immensely at times, with terrible morphine trips in the night and hallucinations due to the pain and , and sometimes people are naïvely cruel (his friend visits him in hospital and tells him he looks like Sloth from "The Goonies" which haunts him for months) but often one admires his pragmatism as an 18 year old; as he talks to other blind teenagers at his rehab school, he remembers "each of us learned a universal truth: life will go on."
You can't help wondering, however, how others may have fared without his fantastic network of friends and family and without a goal to aim for; this makes it so much more important that he wrote the book in the first place: to help others in the same situation, and to help those who know nothing about being blind understand more about the clichés sighted people may have, such as blind people needing to feel your face to recognize you: Marcus is forced by a conceited girl to do this at a party, "I'm really pretty, aren't I?" she quips, and he squashes her face to look like Porky Pig in disgust! Also, assistance given by sighted Samaritans for crossing the road can be an action more dangerous than kind – one guy is turned around and walked four blocks the wrong way, getting completely lost!
Marcus Engel is now an inspirational speaker, finding his niche in life after giving compelling workshops about how it is to be blind, and works dedicatedly to provide support to those affected by drunk drivers. There is a poignant scene in court illustrating this, in which he finally comes face to face with the man who drove the car into his on the fateful night. Because of the light sentence bargain, only 120 days in jail, Marcus asks the crying man to stare at the horrendous facial injuries he has sustained, knowing this will be punishment enough to haunt the man for the rest of his life.
A genuine and well-written page turner with lessons and advice for life and its turbulent nature authored by a charismatic and erudite personality.
Links