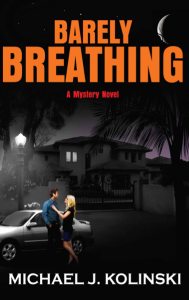 Barely Breathing by Michael Kolinski is an edgy thriller that isn't afraid to take on difficult subject matters to get the reader to think as well as be entertained.
Jake Wood has recently survived a tragedy that left seven people dead. When his cousin, Jana, learns of the situation she reaches out to Jake and invites him to visit her in sunny California. Jake is in dire need of a vacation and accepts the invitation.
As soon as he steps off the plane, things are troublesome. First, Jana doesn't pick him up at the airport. Then she doesn't answer repeated phone calls and texts. When Jake searches for Jana at her residence, he meets Laurie Summers, Jana's best friend. Laurie and Jake become concerned about Jana's disappearance and team up to find out what happened. Thus begins the quest that leads them to Northern California and Las Vegas. What they find may shock many readers.
Right off the bat, Jake is a likable character. His wit, charm, and sexiness ooze off the pages. Laurie, who is an actress and model, is beautiful. However, the author doesn't just focus on her looks, and rounds out her character. She's just as witty and entertaining as Jake. They reminded me of a modern day Nick and Nora Charles. They get into sticky situations again and again and it's hard for the reader not to cheer for them. Kolinski does a wonderful job of mixing humor into the tense scenes making the experience more enjoyable and memorable.
The bad guys, since you can't have a thriller without them, are creepy and complex. They are easy to hate, but there's something that makes the reader want to know more about them. Not to get to know them in a friendly way or to feel pity for them, but to figure out why they are doing what they are doing. Kolinski's character development is a big strength in this novel.
Jake and Laurie stumble upon many different scenarios that lead them on a crazy chase. Along the way, the author introduces many themes that may be difficult for some readers, such as animal cruelty (some of the scenes are difficult to read) and sexuality. However, it's worthwhile to stick with it since the ending may surprise many. The twists and turns will keep most readers guessing and glued to the book.
And if an entertaining detective story isn't enough, there's also romance. As soon as Jake and Laurie interact it's not hard to determine there's an attraction. Their budding romance allows the reader to take a break from some horrific scenes. And they are a good couple and many will be cheering them on to not only to find Jana, but to fall in love.
Barely Breathing is a quick detective story that is entertaining from the very first page and the action doesn't stop until the end. The twists and turns will confound many. The book is slick, sexy, and not afraid to push the boundaries and raise awareness. This is a wonderful start to Kolinski's writing career.
Links
Amazon
Barnes & Noble