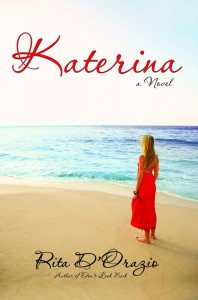 Katerina by Rita D'Orazio is the sequel to her first book, Don't Look Back; however if you haven't read the first one, no worries. This can be read as a standalone. The author does a wonderful job of not referring to incidents or characters that only readers of the first novel would understand. In fact, if the reader didn't know that this was the sequel they might not even have guessed that this work is a continuation of Katerina's story.
Katerina Balducci has lived a full life and she's only fifty. The novel opens with Katerina attending a Beach Boys concert. Before the concert starts she starts to reminisce about her life. Soon the reader is taken on a journey exploring how Katerina ended up at the concert.
Her path wasn't easy. When she was twelve, she and her father went to California to visit her sister, Simona, who had recently tried to kill herself. They wanted to ensure that Simona was adjusting to her new life. What Katerina didn't expect was to find her father covered in blood one night saying that they were leaving California and heading back to New York on the red-eye. She had to leave Ryan, a boy she had a crush on since she was five. Also, she would miss her first opportunity to attend a Beach Boys concert. This was a lot to take for a twelve-year-old. Why was her father doing this? She's shocked when she discovers the reason. Katerina's father found out he wasn't Katerina's biological father. His wife, Katerina's mother who was back home in New York, had an affair years earlier. Both of them want answers. Katerina's mother isn't the easiest woman to get along with and the child fears that her father will abandon her. This would be disastrous for the young girl since she adores her father and fears her mother.
The reader soon learns that this isn't Katerina's last hurdle in life that she has to overcome. At times the novel is whimsical and puts the readers at ease. At other times, the reader is taken on an emotional roller coaster. For the most part, the twists and turns are surprising.
The writing style is simple and easy to read. The author has a clear story she wants to tell and doesn't get bogged down by fancy words or descriptions to tell it. Many readers will fall for the headstrong and somewhat impulsive Katerina. Many more will cheer for her to succeed even though she has to overcome mishaps, lost loves, and family problems as the story takes many twists and turns.
At times, the story feels more like a daily log rather than a novel. Yes, readers like to get to know their characters, but they don't need to know what they order every time they go to a restaurant.  The author relies on filler like this to help move scenes along, which works occasionally, but can become too much.  And honestly, the author doesn't need to rely on this technique. When D'Orazio trusts her storytelling abilities the reader is treated with crisp prose. It's only a matter of time before she reaches her full potential as an accomplished author.
Links
Amazon