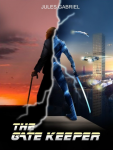 The synopsis of The Gate Keeper by Jules Gabriel is intriguing.
I am 16 years old and my name is Phil. In fact feel free to be me. Welcome into my world at high school. Feel the romance and the love I have for Samantha. Be part of my struggle as I make a stand against a gang of bullies. Witness it all, as a stranger enlightened us about our future we are destined for. The most bizarre part is that he also knows our darkest secret. The question we ought to seek is; 'who we are in the future?' Nothing is more frightening when two detectives come for us for an interrogation downtown. Our journey starts there. Lives are at stake. Nothing is what it seems to be. Our futuristic destiny which we're yet to uncover may hold the key to the human evolution, technological revolution and our progress.

Be me, Phil Smith, the sole resistance who shall bring changes.
"Nothing is what it seems to be."  That's the line that may pull in a lot of readers. Mysterious characters and circumstances make for fun reading, when done right. Some readers after reading the blurb might think Phil is actually a robot and not a teenage boy, due to the language and use of we or us instead of me.
That's not the case at all. Phil is a high school student who has a bright future in front of him. Recently he's fallen in love, found out one of his friends isn't a friend at all, and is visited by a weird older man who aides him after Phil survived a gang of bullies.
The story has a lot of action as Phil travels to the future and has to fight for his survival. It seems he's made a lot of enemies in the future and they want the younger Phil to confront what he will become. Again, it's an interesting premise. There's a lot of potential in this novel: time travel, romance, environmental issues, social responsibility, and the danger of large corporations.
Unfortunately, the execution isn't there. The author will focus on one character and then abruptly moves to another. In addition, he jumps around in time in such a confusing manner that it's easy for the reader to get lost in the pages. To complicate things, science lessons and terms are plopped into the novel, adding to the confusion instead of clarifying. Scientific terms are usually found in science fiction novels, so this isn't the difficulty. The problem lies in the fact that the author thinks the reader can read his mind. Not all the dots are connected in a fluid manner and the reader may find herself grasping at straws to follow along. This isn't to say science fiction writers shouldn't have an overarching point. By all means, educate readers by being subtle and write a cohesive story that not only entertains but critiques modern-day society.
It's a real shame that the final product of this novel falls short. There really are many themes that could captivate so many readers. At times the brilliance of the story starts to shine through, but then it reverts back jumping around. This reviewer couldn't get past the confusion and kept wondering what the story was really about. The action scenes are well-written and provided much entertainment. If the author reworks this novel I would love to give it another go. It's so close to being really good.
Links
Amazon