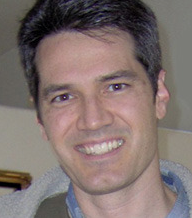 Karl Beckstrand is a nine-time published author with 17 titles online (reviews by The Horn Book blog, School Library Journal, Midwest Book Review and ForeWord Reviews). Raised in San Jose, California, USA, he received a B.A. in journalism from BYU and an M.A. in international relations from APU. Since 2004 he has run a publishing company producing captivating stories, ads, and scripts.

She Doesn't Want the Worms! Ella no quiere los gusanos: A Mystery (in English & Spanish) is a very original story; where did you get the idea?
I just had this vision of a girl being offered all kinds of creepy crawlies and being unphased by them. When the left-field ending came to me–it was so twisted–I had to run with it.
The illustrations are stunning. Who concocted those wonderful almost-mosaic images?
Pennsylvania artist, David Hollenbach.
This book is part of a series of books?
Yes, Mini Mysteries for Minors–even preschoolers like a good mystery!
There's a lot packed in those pages, will kids catch everything?
That's the great thing about kids and books; if you give them enough interesting things, they will read and re-read to get every juicy detail–and new ideas of their own.
Why bilingual or Spanish options?
I learned Spanish while living abroad in South America. I want to reach more people—give them entertaining ways to get lifelong skills like reading, language, counting, finding and creating.
Who do you hope will buy your book–is there a target audience?
Some of my books are for ages 2 – 8 years; but a bilingual book can be useful to anyone who's learning a language. The pictures, pronunciation guide, and bilingual text (if you get that version) all aid comprehension. Not only do young kids get a fun story, older ones can search and count critters, even adult language students can use it to increase vocabulary.
Give us a glimpse of the story; will you share a portion?
She will not clutch–nor even touch–the bumblebee I gave her. The fly she hates, but tolerates it (like a sour neighbor)…. The mantis makes her motionless the centipede is creepy; the moth has got the wrong address; the crickets make her sleepy.
What's your favorite part?
Aside from the great images? I like the girl's laid-back attitude toward all the critters—and the twist at the end.
What do you hope that families will get out of your books?
I think kids and adults like clever stories–at least I do–and lots of laughs.
You've had some good press!
Yes, we've had reviews in ForeWord Magazine and Midwest Book Review; Our Banana cookbook was featured on TV and on the Horn Book review blog.
Where can readers get your books?
They are available from the big distributors (Ingram, Baker & Taylor, Bn.com, Amazon). They are also on Kindle, NOOK, and Premiobooks.com. Of course, your local store and librarian can get them too.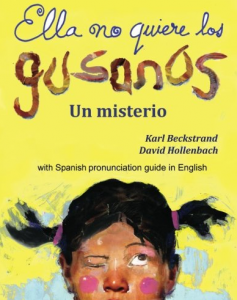 She Doesn't Want the Worms! Ella no quiere los gusanos: A Mystery (in English & Spanish)  An activity book about a girl who responds to some unusual gifts–that happen to be alive—She Doesn't Want the Worms has text and a pronunciation guide in both English and Spanish. It includes finding and counting activities and vivid illustrations of animals and insects for laughs, learning and family fun! (ages 2 years & up). Get this book in Spanish-only or English-only (with pronunciation guide—plus ONLINE SECRETS!): Premiobooks.com. 24-page, perfect-bound, 8″x10″ soft cover picture book with bi-racial character, 180 words (double for bilingual), Premio Publishing & Gozo Books, LLC (Mini Mystery for Minors, worldwide rights, June 2011), by Karl Beckstrand, Illustrated by David Hollenbach, suggested price: $6.95, available via Premiobooks.com (SEE INSIDE!), Ingram, Baker & Taylor, Follett Library Resources/BWI Title Wave, Bn.com/NOOK, Kindle/Amazon.com, Brodart, and select retailers.¿Quién regala gusanos — y POR QUÉ? ¿Asqueroso? Tiene que haber una razón. Mientras que piensas y repiensas, cuenta los bichos. Un misterio divertido para cualquier edad (2 años y arriba), incluye actividades de búsqueda, una guía de pronunciación en ingles y español, y dibujos vividos para ayudar con el vocabulario — diversión y aprendizaje para toda la familia. Pida este libro únicamente en español o ingles (más SECRETOS online): Premiobooks.com.  Libro con dibujos y una protagonista Latina, 24 paginas, 8″x10″, tapa blanda, 180 palabras. ISBN: 978-0977606528 (Spanish ISBN: 978-0977606573), LCCN: 2010910827, JNF020010
CONTACT:  Hysen Lowry  info@premiobooks.com  208-403-9634