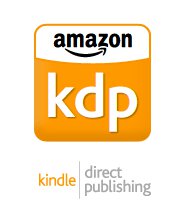 Kindle Direct Publishing (KDP) has established itself as the single most recognisable DIY self-publishing platform for authors wanting to publish their books in e-book. Amazon launched Kindle Direct Publishing back in 2007 in beta form and pitched it initially to 'publishers' via marketing emails. Amazon had also just launched the first Kindle e-reader hardware—a basic e-ink, black and white text device.
It was clear even back then Amazon saw the Kindle experience as both a facilitator for readers and author/publishers. Since 2007, the Kindle Direct Publishing (KDP) platform is available to authors in many countries including USA, Canada, Mexico, Brazil, UK, Germany, France, Spain, Italy, Australia and Japan, and the supporting Kindle store market now stretches beyond 100 countries. That's a pretty powerful global reach for any authors, and yet at the heart of Kindle software is mobi; a series of file formats developed by Mobipocket (owned by Amazon since 2005) to develop the software for Amazon's Kindle e-reader, web-based Cloud Reader and for the Kindle reading apps for Android, iPad, iPhone, iPod touch, Windows Phone, PC and Mac. This remains both Amazon's greatest strength and weakness. Amazon might dominate the e-reader market, but the format of choice for most other device manufacturers is e-Pub. Also, despite a wider range of sophisticated colour e-readers, the Apple iPad remains a more suitable device for colour, heavily illustrated and enhanced e-books.
Confused? Put it this way. Publishing through KDP will give authors a huge market reach for their e-books, but if you want the potential to reach all readers using an e-book, you will need to publish your e-book in e-Pub format (outside of Amazon's walled garden) with another e-publishing platform as well.
Authors can upload documents in several formats to KDP for delivery via Whispernet and charge between $0.99 and $200.00 per e-book download (you can sell for free for 5 days per 90-day period sign up to Amazon's exclusive Select program—more about that later.
I've never liked the way Amazon has positioned the location of KDP's main landing page on their online ecosystem. Drilling through Amazon's store or affiliate marketplace pages will result in the occasional visual advert for KDP, but I'm still regularly asked in my day-to-day role as a publishing consultant the killer question by new self-published authors: Where the hell do I go to publish on Kindle?
Writing Life may not be a top-of-the-page link on Kobo, but it is there, and likewise, Publish with NOOK Press is there under Nook Books on the main landing page of Barnes & Noble. I guess if you are the number one e-publishing platform, then you don't have to try too hard!
The KDP main page might not be inspiring or sexy, but it's clean (lots of white space) and delivers its key selling points for the service (free without any upfront fees). You will need an Amazon account to publish with KDP or you will have to create one before accessing your work dashboard and uploading a book.
Let's take it step by step.
File Upload
After signing in with your Amazon account (or newly opened account), you can upload your book in a number of different formats.
Word (DOC or DOCX)
HTML (ZIP, HTM, or HTML)
MOBI (MOBI)
ePub (EPUB)
Rich Text Format (RTF)
Plain Text (TXT)
Adobe PDF (PDF)
What authors need to remember here is that KDP's conversion engines will do the conversion online and ideally you really need to upload your internal book file in HTML or MOBI. Using other file formats will result in varying degrees of accuracy and layout in the finished (uploaded) resulting file.  This help page on KDP will advise on the preparation work and specifications required for each separate file format. I would strongly advise any author to download Calibre's e-book management tool (free) and use this to work with and test/convert files before upload to KDP. Every file type has its own built-in formatting and the more complex your book file (images, diagrams, tables etc), the greater degree of variable results you will have. The KDP upload (certainly from my experience) is a lot more forgiving than using Smashwords' meatgrinder, but only because its conversion engine is 'looser' with file replication outside of HTML and MOBI files submitted.
Like many e-publishing platforms, along with the upload process, you will need to have all the information needed for the publication of your book to hand. Your KDP dashboard will allow you to update/reload a new version and change other publication details like book description, author (referred to as contributor), publisher name and cover, but I would suggest that an author has all these details to hand in an MS Word file (and your cover file) before starting the process.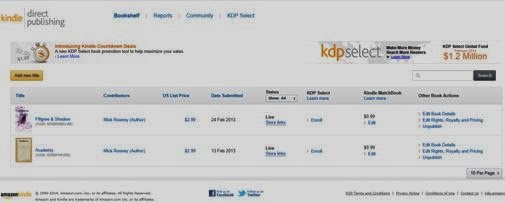 If you are publishing on KDP, you really should sign-up for an Author Central page. This is free and it will allow authors to reach more readers, promote their books, link blog posts and Twitter feeds, and crucially include a proper and detailed author biography. I've no idea why Amazon/KDP didn't properly integrate Author Central into the upload and registration process.
ISBN & Publisher Imprint
Publishing on Amazon's KDP does not require an author to have an ISBN. Amazon allocates a unique number to every published book regardless, known as an ASIN. You can use an ISBN of your own, but note: KDP does not supply ISBNs and is not an affiliated agent.  You have the option to specify the imprint name you registered with Bowker/Nielsen when you bought your block of ISBNs. Remember; even though you publish through KDP, you are still required to register publication details and copyright details with the relevant bodies in your country. KDP is a DIY self-publishing and distribution platform, and Amazon, its owner, is fundamentally an online retailer; you still remain the author-publisher and are responsible for all the legal and registry red-tape that goes with that.
General
You can unpublish your book at any time on KDP, and you can change the internal file or cover, or other submitted details, pricing etc. Updates can take 24 to 48 hours to take effect online. Your dashboard will also allow you to alter set retail pricing depending on how many territories your book is available in.
You can choose to enroll in Kindle Select. This pricing and promotional program will let you set your e-book below $2.99 for a period of 90 days. During these 90 days, you will have 5 free promotional days to give your e-book out for free if you choose. Once the 90 days are up, your book will revert to its standard market price. The 90 day period is renewable (including the 5 day free period) but your book must be exclusively sold on Amazon Kindle and on no other online retailer.
What is Kindle Owners' Library?
If you choose to make a book exclusive to the Kindle Store via Kindle Select, then the book is eligible to be included in the Kindle Owners' Lending Library. This option is exclusive to authors who are Amazon Prime Members. However, borrowing e-books is only available on Kindle devices, not Kindle reading apps.
Amazon KDP includes a preview tool before you save and commit your book file to publication in the Amazon marketplaces, but I've found this preview tool is not always entirely satisfactory. I would recommend you either test your file using Calibre, prior to upload, or download KindleGen (a command line tool used to build e-books) and the Kindle Previewer (a tool that emulates as closely as possible how your e-book will display on Kindle devices and applications).
Royalties and Pricing
Once you have uploaded your e-book project to KDP, it will appear on your main dashboard. Under Rights and Pricing you can specify to sell your book in individual territories or Worldwide. You have the option to select a 35% or 70% royalty rate, but note that download delivery charges will apply to the 70% rate dependent on the size of the file, and not every territory qualifies for the higher rate of royalty. To qualify for the 70% royalty rate, the price of your e-book must be between $2.99 and $9.99 and the list price must be at least 20 percent below the lowest physical list price for the physical book. You can change your royalty and pricing options at a later stage. Full examples can be found here on KDP. If you are not enrolled in Kindle Select, you cannot price below $2.99.
Reports, Payments and Tax Withholding
KDP provide monthly reports on e-book sales, including periods of promotional runs, and all reports can be viewed online by territory from your author dashboard. The main payment report includes your payment amounts, tax withholding, payment type, and other information in a way you can filter by sales period, marketplace, and payment status via drop-down menus on the reports option from your dashboard. Your payment report can be downloaded in Excel format. Payments are made by Amazon for sales in any given month approximately 60 days later.
Amazon KDP requires all author-publishers to supply a valid tax identification number (including non-profit or tax-exempt organizations) in order to comply with USA tax reporting regulations. A United States tax payer number—known as a TIN—is required by Amazon if you are a USA Publisher.  Non-USA publishers must provide a TIN if they are claiming treaty benefits or if their income is effectively connected with a USA trade or business. Non-USA author-publishers do not need a TIN, but you will need to apply for an EIN (individuals/business entities) or ITIN (Individual Tax Identification Number), otherwise Amazon KDP will withhold a percentage of your royalties. Once you have obtained your tax number, you will still need to fill out a W8-BEN form for Amazon KDP. For further details on how to go about this procedure, take a look at this excellent post by Catherine Ryan-Howard. Amazon has begun recently to streamline the process of recording and registering your overseas tax details and W8-BEN form submission. It can now be carried out through an online process.
Royalty payments for each of the Kindle Store territories (the ones you have chosen to distribute your book in) are paid automatically and directly to your bank account or sent by check to your address, depending on which payment method you chose during sign up and registration as a KDP author-publisher. Authors should also remember that Amazon KDP, like most e-publishing platforms, impose different payment thresholds depending on the method you have chosen to be paid with. Amazon KDP does not pay author-publishers via PayPal.
Overall
Amazon KDP provides a pretty thorough help guide section which covers all the areas you may need advice and help with. Additionally, the Kindle KDP community also offers user support from other Kindle authors and publishers. One further external and independent resource for help is the KBoards forum (Kindle Boards), again a community of authors and publishers using the KDP platform. You can also find many recorded tutorials about using KDP on YouTube.
Amazon's dominance in the e-book sales market has made it the single most recognised place to go to browse and buy e-books, and I see KDP as the devil you know and can't really do without if you are a serious DIY self-publisher. But like all DIY self-publishing platforms for e-books, the author-publisher needs some smarts about them. Competent computer skills and a degree of comfort working with basic design specifications is a must. KDP is no Bookbaby or Lulu. This is not assisted self-publishing. KDP does not provide file preparation and formatting services, nor does it provide cover design services. If that sort of stuff perplexes you, then I would strongly recommend you contract the formatting and design services of a professional who will be able to provide you with a completed file ready to directly upload to KDP. You are ultimately the publisher as well as the author, and you are responsible for all the components, registration and book publishing legalities that go with producing and publishing a book.
All that said, KDP remains one of the easiest hands-on DIY self-publishing e-book platforms there is. I find it a great deal easier to navigate and upload work than say, Smashwords. The single biggest disadvantage to using KDP is that you are only publishing to Amazon's Kindle, and if you want your book available in the universal e-Pub format, and to all e-book readers using other devices, then you will also have to combine publication on Amazon KDP with another e-book platform and distributor.
PROS—Easiest of the DIY publishing platforms to use, attractive royalties, strong author community, huge global reach, flexible author-publisher payment, useful online sales widget tools, transparent terms and help resources.
CONS—Exclusivity if book enrolled in Kindle Select, single walled garden (eggs in one basket-subject to changes in terms and conditions) if bulk of sales from one distribution channel, KDP website lacks visual appeal, no hands-on technical support, Prime members (readers) can only borrow one book a month from Kindle Owners Lending Library, iPad may be more suitable e-reader device for some illustrated and enhanced e-books.
RATING: 8.1/10 (Provisional)